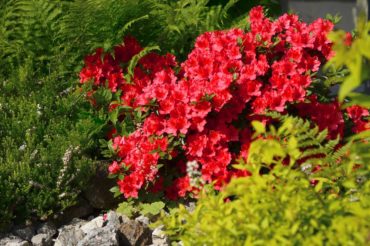 Too much, not enough, and never when you need it. This is a common complaint of gardeners. Keeping and using water where it falls is the first step in managing this precious resource.
Planting and maintaining a healthy landscape is a good place to start. Trees, shrubs, ground-covers and other plantings improve water quality and reduce storm water runoff. The plants capture nutrients, preventing them from leaching through the soil. A dense covering of greenery and mulch helps prevent soil erosion and keeps phosphorous and other pollutants out of our waterways.
Incorporate native plants whenever possible. Not only are they most adapted to the local growing conditions, but many have deep root systems that open pathways through the soil. These openings allow the water to penetrate the soil surface, providing moisture to plant roots on the way to recharging the groundwater. And as the old roots die, they add organic matter to the soil, increasing its ability to absorb rainwater.
Adding more organic matter in the form of compost will also increase the soil's ability to absorb water, reducing surface-water runoff into the street and storm sewers. Compost also helps capture contaminates so they don't leach into our waterways or get absorbed by plants.
Capture rain falling onto your roof with rain barrels to use for watering containers and ornamental plantings. Start with a call to your local jurisdiction. Some restrict the use of these water-collecting devices, while others may offer incentives and rebates for including them in your landscape.
Make your own rain barrel from a food-grade container or purchase one from your local garden center, retail outlet or online garden-supply company. Select rain barrels suited to your landscape design. Purchase one of the more decorative barrels, turn a plain barrel into garden art with a bit of paint or mask it with a few plants.
And don't worry about mosquitoes. Just toss a doughnut shaped cake of Bacillus thuringiensis israelensis (Bti), such as Summit Mosquito Dunks, into the rain barrel. This naturally occurring bacteria only kills the larvae of mosquitoes, black flies and fungus gnats. It won't harm people, pets, fish or other wildlife.
(Editor's note: Read this article from Washington State Department of Health before applying Bti.)
Consider adding these to areas subject to periods of standing water. One dunk provides control of a 100-square-feet surface of water for 30 days. The hole in the middle allows you to stake the dunk in place, preventing it from being washed away in heavy rains. It remains in place and provides control when the area is flooded again.
Add beauty and prevent surface water runoff with a rain garden. These gardens are located and designed to intercept the water running off walks, drives and the lawn before it enters the street and storm sewer. The water percolates through and is filtered by the plant roots and soil before entering the groundwater. Do a bit of research before digging in. Proper placement, soil preparation and plant selection are essential to success.
Managing water where it falls is not only good for your garden, but also the environment. You'll enjoy the beautiful surroundings and know you made a difference by incorporating one or more of these strategies in your landscape.
Melinda Myers was commissioned by Summit for her expertise to write this article.