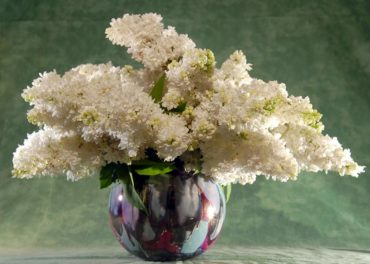 Spring is undoubtedly my favorite time of year. Each spring, I especially look forward to cutting fresh flowers from my yard to arrange in a vase on my kitchen windowsill or dining room table. In some ways, the finished display is like a trophy showcasing my gardening skills, while allowing me to bring color from my yard indoors.
Most flowers will last in water for about a week. Be sure to cut the stems at a diagonal to help them soak up more water, remove all leaves and petals that are below the water level in the vase, and change the water when it starts looking murky.
As soon as any stems start to wilt or get soggy, remove them from the water. Some people add a little bit of sugar to the water to lengthen the life of their cut flowers, but I've found that it gives the water a milky color and only extends the flowers by a few days. So I prefer to use fresh, cold water by itself. When you replace the flowers, replace the water too.
If you don't want to grow your own cutting flowers, you can still create a beautiful bouquet with flowers you can get from a florist, plant sale, farmers market, nursery, garden center or even the grocery store. Whatever is in bloom determines what flowers I put in my bouquet that month, and the size and color of the flowers dictate the arrangement.
This year, the daffodils I planted last fall and tulips I picked at a tulip farm were my flowers of choice for April. If all goes according to plan, I can anticipate filling my window vase with lilacs and purple bell flowers in May; an eclectic combination of impatiens, snapdragons and veronicas in June; a patriotic mixture of red geraniums, bluish-purple irises and white bell flowers in July; orange crocosmia 'Jupiter' in August; and dried lavender stems from September to March.
Since I don't actually have to commit to a specific list, it's always fun to wait and see what else might be growing in my yard that would make a nice addition to my floral arrangement. I might even put a few blooming magnolia or dogwood branches in a tall vase in a corner near a window.
A word about vases:
There about as many shapes and sizes of vases as there are flowers. The key is to make sure your vase is the right height to support the flowers. A shorter vase will require having shorter stems while a taller vase requires taller stems, and so on.
The vase's mouth is also important. Your vase needs a wider mouth for a cluster of large flowers, such as hydrangeas or dahlias, to give the flower heads enough room to breathe without being too crowded. If the top of the vase flares too much, flowers that are smaller or need extra support will just fall over.
The color of the vase should also be considered. I like clear vases so the focus is on the flowers, not the vase, but if you would rather not see the stems, go with one that isn't completely clear or is a solid color.
I have an 8-inch-tall, crackled-glass vase that I use for most of my bouquets throughout summer. I've also used a hand-painted, ceramic pitcher for hydrangeas and a tall, ceramic vase for larger, heavier flowers. Mason jars, large candle jars, wine bottles, large perfume bottles and anything else that has enough height and an interesting shape can also work well as a flower vase.
There are no specific rules for which flowers are the best for fresh displays, but here are some of my favorites that have sturdy stems and can last about a week in a vase of water:
Asters
Bell flowers
Crocosmias
Daffodils
Dahlias
Day lilies
Delphiniums
Echinaceas (purple coneflower)
Gerbera daisies
Gladiolus
Hyacinths
Hydrangeas
Impatiens
Irises
Lavender
Ornamental trees (snip a few small branches and place them in water right before the buds open)
Roses
Snapdragons
Sunflowers (smaller varieties)
Tulips (ones that are cut before they are fully opened will last longer in water)
Veronicas
Zinnias