Native plants are the perfect complements for West Sound gardens. They are easy care, once established, and many of our "domesticated" or "cultivated" plants once had native roots. Also look for native plants that survive well in British Columbia, Oregon and perhaps Northern California.
Visit the native plant sections at local nurseries for ideas. And better yet, take a stroll through the Buck Lake Native Plant Garden. This garden features lots of easy-care native plants just perfect for West Sound gardens.
Here are just a few to try.
Vancouveria hexandra — comes in both deciduous and evergreen varieties
Cammasia quamash and Cammasia leichtlinii — bulbs
Lonicera involucrate — black twinberry (bearberry honeysuckle)
Cornus canadensis — bunchberry (dwarf dogwood)
Vaccinium ovatum — evergreen huckleberry
Vaccinium parvifolium — deciduous red huckleberry
Vancouveria hexandra is a wonderful ground cover, available in both deciduous and evergreen forms. The leaves actually look like tiny duck feet. Flowers emerge in spring and the stems are festooned in white blooms, much like tiny orchids.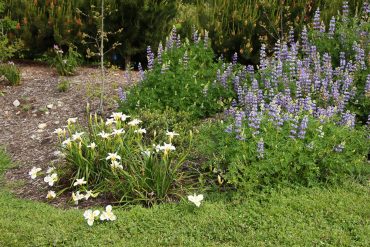 This plant prefers partial to full shade but will also survive in dappled sun conditions.
Cammasia quamash and Cammasia leichtlinii are bulbs preferring damper conditions. They are a good raingarden plant but are especially splendid in sweeps of bulbs in a field or meadow. They also like dryer conditions in the summer time but tolerate soggy winter and spring weather.
Flowers are held aloft tall spikes, with the vivid blue blooms marching up and down the stems. Cammasia can also be found in hybrid forms of white, lavender and pale blue.
Lonicera involucrate, called black twinberry or bearberry honeysuckle, is an appealing, large shrub. Grows well in dappled shade but will do well on the edges of shady areas where some sunlight hits it from morning to mid afternoon.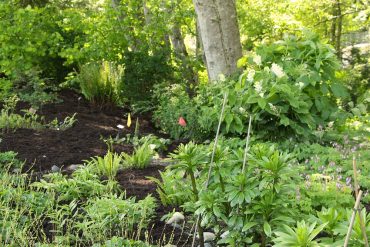 Yellow, tubular flowers hang down in pairs from the stems. Deep black, round berries (in pairs) are surrounded by red brackts.
Authors Pojar and MacKinnon describe the berries as "shiny, black, twin berries cupped by two pairs of deep purplish-maroon brackts." The authors also caution that "twinberries are not considered palatable."
Cornus canadensis, bunchberry (dwarf dogwood) is much coveted by many gardeners. It's a lovely rhizomatus, ground-hugging, tiny dogwood plant with white flowers and red berries. It loves shade and the edges of woodlands.
If Cornus canadensis is not readily available, try Cornus unalaschkensis.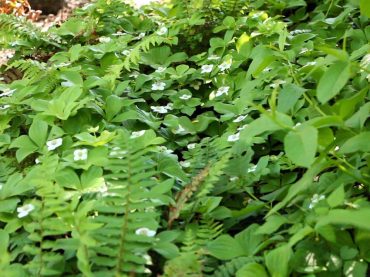 Buck Lake volunteer Mary Booth says, "Dig out a trench and either fill the trench with rotting wood chips or place a rotting log and then add soil on top at the time of planting the bunchberries. Or hollow out a trench in an old decaying log, add some soil and plant the bunchberries. The relationship between the rotting wood and the bunchberry plants is the key to good establishment."
Huckleberries, both evergreen Vaccinium ovatum and deciduous red huckleberry (Vaccinium parvifolium), can be found in numerous West Sound gardens. The birds provide them as a gift, or the landscapes came with them already planted nearby.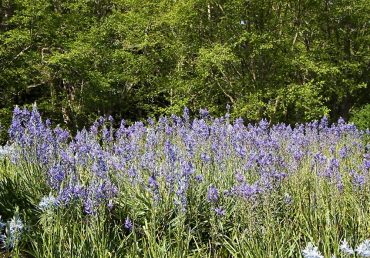 Local gardeners with access to huckleberries sing praises for both the red huckleberry jam and for tarts, pies, jams and jellies provided by the evergreen huckleberry plants either in their own gardens or planted nearby.
Evergreen huckleberries have year-round interest, with red and pink new evergreen leaves emerging, white flowers festooning the plant and, finally, the abundant berries. These huckleberry plants are usually covered in honey bees and bumblebees gathering pollen. Hummingbirds like sipping nectar from the tiny blooms.
Red huckleberry plants provide appealing fall color and lovely orange berries, much loved by birds, in spring. This deciduous plant is utilized for floral arranging, featuring the leaves, berries and even the bare branches.