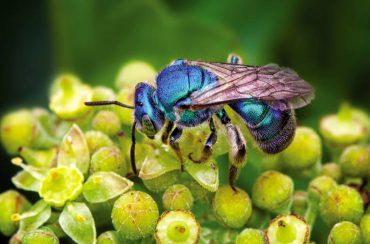 Editor's note: Now that we know the benefits of mason bees, here's what we can do to make West Sound bee-friendly. This is an excerpt from "Mason Bee Revolution: How the Hardest Working Bee Can Save the World One Backyard at a Time," a book by Dave Hunter and Jill LIghtner recently released by Seattle-based Mountaineers Books. Read Part 1 to learn about the types of gentle bees and how mason bees are different. Read Part 2 to learn about the benefits of pollen in the garden as well as reduced chemicals due to mason bees.

1. Reach out to farmers markets.
Farmers market shoppers have an interest in the health of the local food supply, which means they are invested in the health of local pollinators. Many market organizations will let you, perhaps with the help of a few beeloving friends, set up an educational table to talk about your bees, explain how easy they are to care for, and offer free handouts on pollinator-friendly gardening practices and mason or leafcutter bee keeping.
2. Visit with Master Gardeners.
Affiliated with university extension programs across the United States, Master Gardeners invest a lot of effort in their training, and many of them can be found at nurseries and hardware stores offering free expertise on gardening.
Many tend to have a special area of interest; you might meet one who knows everything about roses and nothing about fruit trees, then have a different encounter in which the reverse is true. However, the program hosts regular discussions on topics that relate to almost all areas of gardening, and you might meet up with current students in search of a project to assist on to complete their certification. Their interests are a natural fit with those of mason bee keepers; it just takes a little outreach.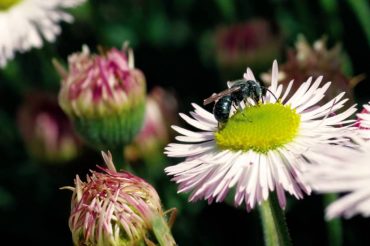 3. Join your neighborhood's landscaping board.
Many planned communities have rules that govern street-facing landscaping, which can actually make it difficult to plant native species or add bee-friendly plants. Some might even enforce annual pest spraying!
The best way to change these rules is not to fight them from the outside, since you might just end up with grumpy neighbors or even having to pay a fine for not following the design codes. Instead, join the board or oversight committee and, by educating the other members, help change the rules one step at a time. A beautiful yard can have a meadow of flowers adjacent to a small patch of green lawn, and keep everyone happy.
4. Turn your church's garden space into pollinator habitat.
The activities of digging a garden, tending plants and welcoming little creatures to the new environment around your church is a great way to foster community and enjoy some outdoor time with others in the congregation. Get the Sunday school involved or, if the church also runs a school or daycare, chat with the principal to see if there is a way for the children to participate.
5. Start or expand a community garden program.
While many cities are expanding their community garden programs, there is often a waiting list for a space. In many cases, it is up to the local parks department to identify the desire in a specific neighborhood and reassign land from whatever its previous use was to become new garden beds. If the community does not make its voice heard, the department will not know the interest exists!
If your area does not yet have such a program, check with local government to see how you might go about starting one; in many cases it takes only a little grassroots activism. You can learn about many existing gardens across the United States and in Canada at Communitygarden.org.
6. Plant or maintain an urban orchard.
Community orchards are less common than community gardens, but the movement is growing. In some cases, land with an existing orchard is donated to the parks department.
Sometimes, new orchards get planted: Seattle's Beacon Hill Food Forest was already making international media headlines shortly after the new 7-acre permaculture project was approved. Its first funding, for planning and design, came through a neighborhood grant in 2010, and groundbreaking took place in
2012. By 2015, about 2 acres were under cultivation, either with new fruit trees and shrubs or with raised beds for vegetable gardening.
Check around for your nearest orchard, and offer to contribute and maintain a mason bee box.
7. Speak about mason bees at a local school.
Teachers are appreciative when experts are willing to come share their expertise with a class. Find out if an elementary school teacher or middle school science teacher would enjoy having you visit. Right before you plan to put your bee cocoons out for the year is a great time, as you can easily bring a few cocoons and nesting tubes with you.
For high school or community college, see if there is a horticulture class that would benefit or if pollinators are being covered in botany or biology. You never know where an interest in pollinators might appear!
If you dread public speaking, see about developing a written handout for the teacher to share, or work with a friend who enjoys it on a joint presentation.
8. Support land conservation in your region.
There are many kinds of land trusts and conservation programs that would benefit pollinators through your financial support. These trusts buy parcels of land and see that they are permanently held only for specific uses.
Typically, these uses are either organic farming, wild habitat or a mixture, and you can find them operating at every level from county to federal. They are usually run by private foundations and not government agencies, but some are public-private partnerships.
9. Buy plants from your local native plant society.
While any number of nurseries will likely carry a small selection of native plants, going directly to the source for your community garden involvement creates friendships as well as an awareness of the importance of food.
Most regional societies hold one or more plant sales during the course of a year, but spring is the most common time. Some offer native trees for sale during the fall.
10. Give the gift of bees.
Aside from giving bee houses and cocoons as housewarming gifts to neighbors (they are also the perfect gift for the gardener who already has everything but mason bees), you can find opportunities to scatter them around the community.
Donate them to your school auction. Donate books about them and pollinator-friendly gardening methods to your city or county library.
If a nearby restaurant you love has a kitchen garden or rooftop deck where they grow plants, give a bee house to the chef. The same idea would be fun for a grocery co-op or anywhere else that supports growing food.
Dave Hunter and Jill Lightner are the authors of the newly released book "Mason Bee Revolution: How the Hardest Working Bee Can Save the World One Backyard at a Time," published by Seattle's Mountaineers Books. While you can't harvest honey from mason bees, you can create a robust urban garden, encourage healthy crops in your city and help safeguard our food supply. The book explores the facts (and fictions) of pollination and food production, with a focus on how mason bees can help everyday gardeners get more from their own fruit trees, berry patches and vegetable beds. For more information, go to www.mountaineersbooks.org.