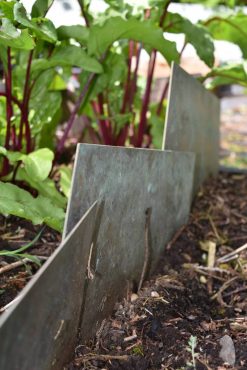 Gardening for wildlife is a satisfying focus for a gardener, knowing that your efforts benefit not only the human caretakers of a landscape, but provide habitat and nourishment for many creatures. What is better than seeing a hummingbird pushing upward on every fuchsia flower while you are hidden beneath a shrub, weeding? Or noticing that bumblebees drink nectar from a secret opening at the base of columbine petals rather than entering from the front, as they normally would most other flowers? Even deer can be captivating, especially when they bring their offspring and nibble away outside a sturdy fence.
We provide birdhouses, shrub thickets, water baths, feeders, piles of brush and a variety of plants in an effort to bring wildlife to our backyards. How do we draw the line, however, at the crops we are raising for your own consumption? The birds aren't too concerned with leaving any cherries on the trees; while the raccoons devour the plums, figs, grapes and strawberries, breaking many branches in the process.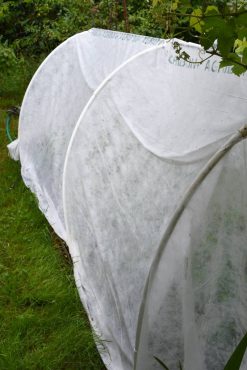 I did draw the line last year and went out of my way to protect some of my crops. After reaping a heavy plum harvest as well as some cherries and grapes, I am refining some of my successful approaches to protecting my harvest this year.
Peas
In past years, I have had to plant peas several times to get a good crop started. Not certain of what was destroying the early pea sprouts, I finally realized the biggest culprit were birds, pulling the tasty sprouts right out of the ground. Slugs are also a big problem.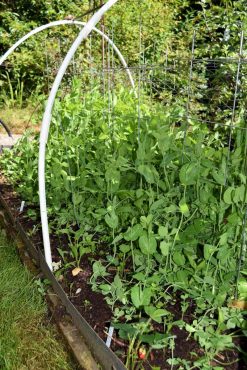 Solution: I surround any slug-susceptible crop with a low, solid copper "fence" and occasionally use judicial applications of Sluggo.
For excluding birds, I covered the whole pea bed with a cloche of Agribon 19 over a PVC pipe frame. Once well on their way, the peas were uncovered to allow pollination of the flowers. This method was very successful.
Strawberries
Dogs and raccoons, the gourmands of the garden, can always find any unprotected strawberries before we do. Once again, I used row-cover material to hide the fruits.
This method works on June-bearing strawberries once the flowers have been pollinated, as the fabric cover would exclude pollinators from the flowers. For ever-bearing berries, I would use a tunnel of 1/2 inch hardware cloth, a small enough mesh to exclude the dexterous paws of raccoons and persistent dogs, yet allow full access to insects.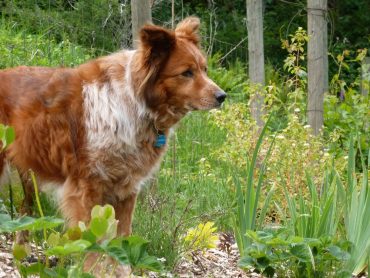 Cherries
Our young cherry trees can be stripped of their fruit over a few hours' time just at the peak of ripeness. I have never used bird netting over my trees, worried that some birds would be trapped in the netting. Last year, I sewed large pieces of row-cover fabric over the fruiting branches, a process that took some effort.
This year I was too busy to fuss with sewing, and our cherry trees sported more tailor-fitted pieces of row-cover fabric, fastened together with staples, over the ripening cherries. This method did a great job of protecting the fruit, but the limited air circulation caused some of the fruit to rot.
Next year, I will be trying tulle, the open-weave fabric used in formal dresses, to allow better air circulation, along with staples to hold it together.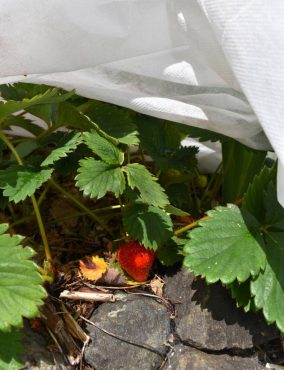 Grapes
Birds, dogs and raccoons all love our grapes, and last year, I protected individual clusters with the footie nylons that fruit growers use for protecting apples from insects.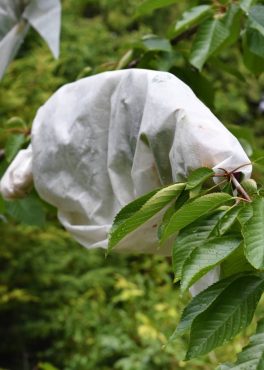 Once again, it is important to let the flowers be pollinated before covering. My efforts were rewarded with quite a bit of fruit, but I was also amazed by the determination of birds to get at the grapes. Some of the stockings were completely shredded, and the grapes gone!
Plums
Our Japanese plum was covered in fruit last year and we got to enjoy a bumper crop after I sewed a large piece of row-cover fabric over a large section of the tree. The raccoons were stumped and no branches were broken.
The only changes I will make this year is to try tulle instead of row-cover fabric to increase air circulation, and use staples instead of sewing to speed up the process. This method may make the fruit more visible to the raccoons, however, and they may work harder to get to it. It will be interesting to see what happens.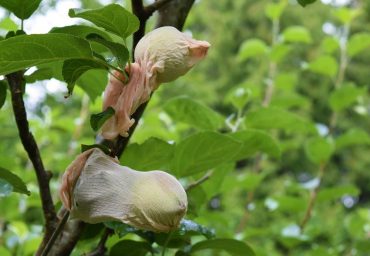 Apples
I chose disease-resistant apple cultivars to ensure a healthy apple crop without having to spray my trees. It was a great approach for 20 years, until the spread of the apple maggot and the coddling moth — the bane of apple growers — found their way to my orchard. After losing a good portion of my crop to these two pests last year, I am making sure any fallen apples are picked up and thrown away, as well as using nylon footies over as many apples as I can manage to cover. With many apples on every tree, this is a tedious process, but, along with using sticky traps, should give good results.
Every year, we are faced with challenges in the garden. We can be discouraged and give up trying to find solutions, or we can put our wits to the test and see if we can best the clever creatures who share our gardens. May your efforts be rewarded by a great harvest!