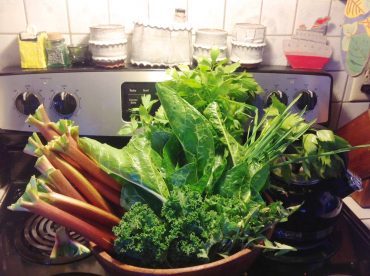 The garden is changing every day this time of year. Plants respond quickly to warming temperatures, the soil is still moist from frequent spring showers. The chores pile up quickly, tugging at us from every garden corner and flowerbed.
At times like these, I am very thankful for all the tasks that were taken care of during the slow season — like pruning, weeding and mulching — when I could spend a few hours outside before going in to warm up by the fire.
I am even more thankful for the edible plants that keep us fed over the winter, those that were planted in the fall and will be ripening soon, and perennials that keep giving year to year.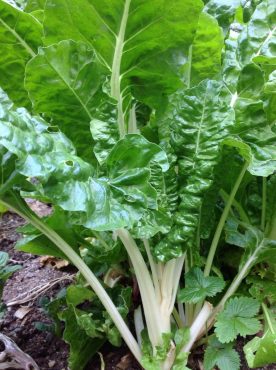 I am slowly getting a new layer of compost spread on the vegetable beds and getting this year's seeds in the ground, and yet the garden is already looking quite full and productive. Maybe I am not as far behind as I feel!
Overwintering in the garden were potatoes, carrots, beets, kale, Swiss chard and purple sprouting broccoli. Many of the vegetables are biannual, and the arrival of warm weather triggers their flowering.
If you keep harvesting the flower stalks of kale, beets and broccoli before they open, you will be rewarded with very tender shoots for your salads and stir-fries. If you keep picking the shoots, the plants will keep producing more, at least until the hot weather arrives.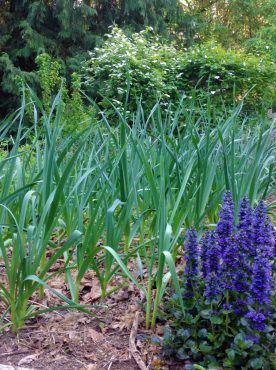 Garlic cloves were planted in late fall, and are quickly growing under a thick, leafy mulch.
Soon we'll be harvesting garlic scapes for a flavorful pesto. The foliage can add a garlic flavor year-round, since any cloves left in the ground happily multiply and produce a nice supply of flavor to add to your meals.
Herbs are a wonderful addition to the menu, and most are perennial. While they are most aromatic just before they bloom, we can use them year-round.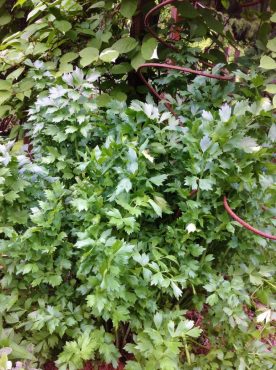 Sage, oregano, thyme, rosemary, French sorrel and mints are all wonderful. Lovage is a perennial herb that grows a mile a minute this time of year and is fabulous when used in pasta dishes and soups in place of arugula or celery. I bet it would make amazing pesto as well!
Rhubarb, the queen of the garden with her bold, beautiful leaves and tangy red stalks, what would we do without her? Perennial, easy to grow and a favorite vegetable to pick by the kids since they get to yank the stems out.
Other perennial vegetables you may want to include in your garden are asparagus, Jerusalem artichoke and the striking silver-leaved artichoke.
Next are the berries: raspberries (June-bearing and fall-bearing) and relatives, strawberries, blueberries and currants.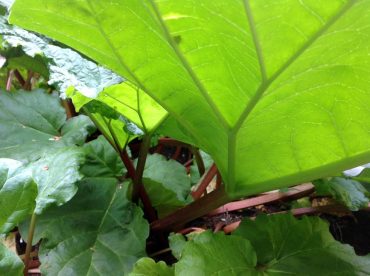 The Arctic beauty hardy kiwi, Actinidia kolomikta, is putting on an amazing show right now. A beauty in the garden, she will soon reward us with bite-sized kiwis.
She needs her mate next to her, but even though he does not produce any fruit, he makes up for that shortcoming by an amazing foliar display.
Grapes, apples, plums, cherries, figs — it's quite amazing how much food is available on this acre of beautiful land even before I manage to open the seed packets of all the annual edibles.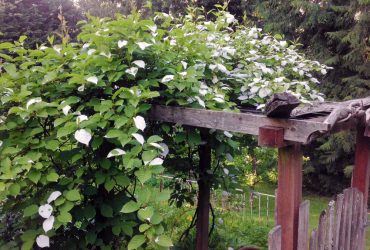 The wilder areas contribute nettles and wild berries, the wood mulch sometimes surprises us with morel mushrooms, and the lawn is full of dandelions, ready for stir-fries or dandelion wine. There is one more reason not to poison your lawn and garden with chemicals.
I invite you to visit our amazing local nurseries, check out specialty edible catalogs like Raintree Nursery, talk with our local fruit clubs (Western Cascade Fruit Society) and enrich your garden and your table with as many of these easy-going, productive plants as you can fit in.
Even if you don't get to enjoy them, the wildlife sure will. But that's a topic for another day. Happy gardening!