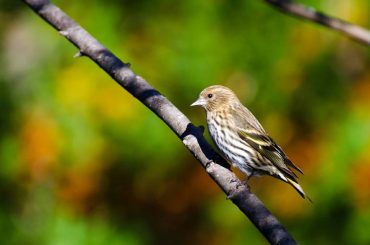 The importance of a heavily planted yard can't be emphasized too much when it comes to attracting birds. All of the plants do not have to provide food for them. Food is just one of four needs for sustaining bird populations.
Like all wild creatures, birds need food, water, nesting habitat and protective cover. We can provide food in the form of feeders but a variety of flowers, shrubs and trees will assure that the bird activity in our yards is more constant.
When the birds aren't at the feeders, they are foraging for natural food sources. A well-planted yard will keep them around.
Water
Water is easy to provide and it's important to remember this especially during a warm, dry summer. A simple birdbath can be the busiest place in the yard. Birds that ignore feeders will flock to the birdbath.
Water gardening is popular now. If you have the resources and the desire to create something more elaborate than a birdbath, the birds will welcome it.
Nesting Habitat
Nesting habitat is critical if a species is to survive. When a yard has ample nesting places, it will be busy with birds all spring and summer. Birdhouses are easy to obtain but sometimes finding the right location can be a little tricky.
If a yard has mature trees and bushes, birds that won't use birdhouses will also find a place to nest.
Never take down a dead snag if it is safe to keep it. Woodpeckers, chickadees, nuthatches, wrens and several other species nest in these dead trees.
We don't think of flowers as nesting habitat for birds, but hanging baskets and planters have changed such thinking. Both the house finches and the juncos are attracted to fuchsias and other hanging flowers. That presents a problem for watering the plants, but with care, it can be done.
Plants
When it comes to planting flowers, more is better. Cottage gardens are the perfect example of a garden that attracts birds. The more flowers, the more hummingbirds you will have. They will also stay around longer.
Summer-blooming flowers are a natural attractant for hummingbirds. Even when the time comes for them to migrate, the late-blooming flowers will attract the wintering Anna's hummingbird. Other birds inhabit flower beds because they are attracted to the seeds and insects that are part of a garden.
Dense shrubbery is always popular with nesting birds like the song sparrows, towhees and white-crowned sparrows. A thicket of shrubs in one corner of the yard can provide excellent nesting habitat. The more densely a yard is planted, the more it will conceal and protect nesting birds.
Protective Cover
Mature trees are an important element in landscaping, but they are equally important to the birds. Both deciduous and evergreen trees hold the nests of robins, Steller's jays, house finches, cedar waxwings, black-headed grosbeaks and numerous other species.
Most plant lists for attracting birds focus only on these plants as food sources. It is possible to use bushes and trees that aren't food sources and still attract birds. Just consider how protective the thick, evergreen shrubs are for nesting or how they offer shelter from a storm.
Protective cover is the fourth element to add to your yard when landscaping for the birds. Many of the same areas used for nesting during the spring and summer will be used for shelter during the winter months.
Birds aren't fussy about what you plant if you remember that more is better. The more flowers, the more plants, the more trees, the more water, the more birds your yard will attract. If you are a gardener and a bird watcher, you have a free pass to haunt the nurseries as I do.