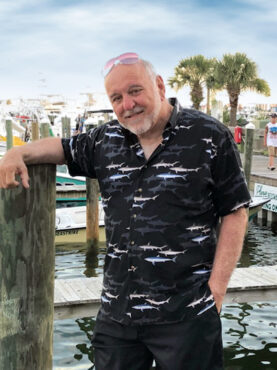 Lary Coppola, Wet Apple Media's chief executive officer, died on Sept. 30, 2023, at age 73 after a brief battle with pancreatic cancer. A longtime Manchester resident, Coppola was a prominent business and civic leader and a pillar of his community. His professional and personal legacy includes an impact on numerous individuals' lives, as well as extensive contributions to industry, nonprofit, community and public service organizations.
Coppola left a deep impact in the community over decades while serving in roles such Port Orchard mayor, Port of Manchester commissioner, Kitsap Peninsula Business Journal publisher and Port of Allyn CEO, to name just a few. Described by those who knew him as a "prince of a person," a wonderful leader, a "one-of-a-kind" individual and a gem of a human being, he was one of Kitsap's biggest cheerleaders. He was a servant leader with a big heart, which was evident in everything he did.
Born in Fort Lauderdale, Florida, on August 15, 1950, Coppola moved to the Pacific Northwest in the early '70s. Originally an electrician by trade, he later launched a career in publishing, starting with several real estate magazines. As the founder with wife Dee of Port Orchard-based Wet Apple Media, Lary shepherded the growth of several signature West Sound publications, including Kitsap Peninsula Business Journal and WestSound Magazine.
During his 26-year tenure as the publisher and editor of the Kitsap Peninsula Business Journal, Coppola was a tireless advocate for local businesses, big and small.
"Lary was always a terrific supporter of small business owners," said Bill Hoke, who was a coach and mentor for two educational and training programs for entrepreneurs, Washington CASH and Kitsap Community Resources' BE$T. "He helped put dozens of CASH/BE$T startups in business by running news releases announcing their openings — and many of them are still in business."
One of the Journal's longtime programs, Forty Under 40, recognized Kitsap's rising community and business leaders, lifting up new generations of high-achieving professionals in Kitsap. Coppola also championed business growth through his civic involvements, including as board member of the Kitsap Economic Development Alliance and chair and vice chair of the Kitsap County Planning Commission.
"He was a huge promoter of business in Kitsap County — he really cared about the business community and was a champion for growing business," said Cary Bozeman, former Bremerton mayor who has known Coppola for many years. "He wanted to make a positive difference and no matter what he touched, he changed it for the better."
As a business owner and employer, Coppola led by example. He made every effort to preserve good relationships with his employees. Behind the scenes, his leadership style showed his belief that downsizing staff in lean times should be avoided if at all possible.
"His flexible work accommodations — even adopting telecommuting — was something that quite simply made a life-changing difference for my entire family," said Greg Piper, a longtime Wet Apple employee.
Piper recalled asking Coppola for partial work-from-home policy "before it was a thing" back in 2005, so he could take full-time care of his two daughters while they were young. Piper was able to keep that arrangement in perpetuity so he could be home when his youngest daughter, who has special needs, is not at school.
"I would be hard-pressed to find any other employment that would allow me to provide full-time care from home while still contributing monetary family support in this two-earner-home economy," Piper said.
Many of his employees considered Coppola a mentor, a friend and a boss who truly changed their lives. "He offered me an opportunity some 30 years ago to be part of his company and his vision," said Kris Lively, another longtime Wet Apple employee. "My family and I are eternally grateful to Lary and Dee — truly phenomenal people."
A self-described gear-head since he was a pre-teen, Coppola has been a hot rodder, drag racer, customizer, restorer and mechanic. All these adventures reflected in his automotive reviews, which were published nationally for over 25 years, including in numerous city and lifestyle magazines around the country.
After a long career in the private sector, he was called to public service. Coppola served as the mayor of Port Orchard from 2008 to 2012, bringing the same "get 'er done" attitude to the job. He promoted the city tirelessly to put it back on the public's map.
Among many of Coppola's accomplishments was the annexation of McCormick Woods and Bethel Corridor to the city, boosting both population and economic development. He was also credited with installing the first electric vehicle charging station in Port Orchard and Kitsap County, attracting new employers to the city, and driving numerous improvement projects, among other things.
"He got Port Orchard going in the right direction and was very inspirational for his love of the city," Bozeman said.
Coppola's public career continued when he took the helm as executive director of the Port of Allyn in 2015. For more than seven years, through his innovative thinking and determination, he made the port more efficient, brought in more than $1 million worth of grants and implemented a variety of capital projects.
"Lary accomplished a great deal during his tenure at the Port of Allyn. He brought a lot to the table as he organized the office to make it efficient and was innovative about creating an income flow for the port," said port Commissioner Judy Scott, who described Coppola as kind and gentle. "His steadfastness and tenacity helped keep us steady and moving forward."
Coppola's professional achievements and accolades are numerous. They include serving as vice chair of the Washington Affordable Housing Council, president and treasurer for two terms each of the Northwest Automotive Press Association and director of the Building Industry Association of Washington, to name a few. He was recognized with awards such as the Kitsap Builders Association Associate of the Year and Elected Official of the Year.
He gave a hundred percent to anything he pursued. But, while his professional commitments kept him extremely busy, his family was his priority. Coppola's friends admired him for his devotion to "Miss Dee," the love of his life; and Bryce, his grandson. He enjoyed life to its fullest, pursuing various hobbies such as fishing, boating, and photography. In recent months, Coppola began looking forward to a near-future retirement and spending more time with family.
With Bryce, he especially shared his love of baseball. Growing up with a semi-pro baseball player for a father, Coppola developed an unbridled love for the game, going to Yankees' spring training games and playing ball in school. This passion lasted into adulthood, and one of Coppola's most memorable moments was taking Bryce on a cross-country baseball trip to visit five stadiums and see nine different teams in seven days.
Coppola's love for the game extended to longtime volunteering as an umpire for youth baseball games, including for several South Kitsap Little Leagues and Crosspoint High School.
Derrin Doty, head coach of boys high school basketball and baseball at Crosspoint, shared a memory of watching Bryce play a Little League game that Coppola was umpiring, recalling, "Bryce fields a ball up the middle, throws to first and Lary emphatically exclaims with his fist clenched, 'Yourrrre out!'"
Doty continued, "Most of all, Lary was always there, supporting Bryce at every baseball, basketball and soccer game he could make. He will be dearly missed by our family and all of the community who knew him and were friends with him."
Coppola was a mentor and an inspiration to young and old, and he left a deep impact on many people. A straightshooter, he was always fair, kind and uplifting, and freely shared his knowledge and experience with those who sought his advice. He impacted the community personally, as a member of organizations like the Port Orchard Rotary; and through his business, which has been supporting a very long list of local nonprofits, fundraisers and community endeavors.
A great voice for Kitsap, Lary Coppola leaves an incredible legacy and a huge void, both in the hearts of those who loved him and felt his positive impact, and the entire community. He'll be remembered in our hearts as someone who had an amazing zest for life and was an inspiration and a remarkable man. In the words of one friend, Heaven got one of its finest to join up there.