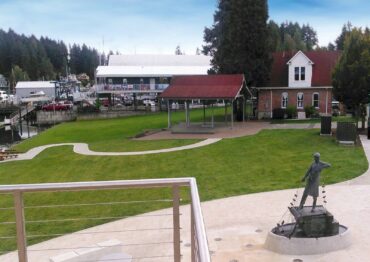 The City of Gig Harbor Tourism Department is bringing back the much-loved summer series of concerts and movies at Skansie Park for 2021. Due to state guidelines, both series were unable to occur in 2020.
Both events, Summer Sounds at Skansie and Friday Night Movies in the Park, take place at downtown's Skansie Park, set along the waterfront in the shadow of Mount Rainier.
Summer Sounds at Skansie
The City of Gig Harbor brings live music to the beautiful waterfront outdoor concert venue — arrive by land or by boat — at Skansie Brothers Park in downtown Gig Harbor 6:30-8 p.m. on Tuesdays in the summer. Enjoy a free music festival featuring music from rocking dance tunes to country favorites.
Concert Schedule:
July 2 – Redemption, a high-energy show, this band plays favorite country tunes old and new. facebook.com/ghredemption
July 13 – Surf Wax Americans, a cover band styled after Weezer. facebook.com/surfwaxamericans
July 20 – Sweet T & Justice, a five-piece Americana and blues band performing both cover songs and original music. sweettandjustice.com
July 27 – Mark Hurwitz and Gin Creek, a two-time nominee for Best Band by the Washington Blues Society. Their style includes a variety of blues, as well as roots rock, New Orleans funk and soul. facebook.com/gincreekband
Aug. 3 – Sounds Like Dolores, the quintessential party band plays a diverse song list of energetic rock, pop and country dance music from the '80s, '90s and 2000s. facebook.com/soundslikedolores
Aug. 10 – The Beatniks, a beloved favorite, Gig Harbor's own Beatniks performing '60s, '70s and '80s music with unparalleled energy and passion. thebeatniks.com
Aug. 17 – Flock of Beagles, playing everyone's favorite "comfort music" to sing along with. Think The Beatles and Eagles (Beatles + Eagles = Beagles), Steely Dan, Jimmy Buffett and more. facebook.com/beagleflock
Aug. 24 – The Paperboys, a freewheeling blend of influences from Celtic and bluegrass, to Mexican son jarocho, brass bands and Canadian roots; the band has been called everything from Cajun slamgrass to worldbeat. paperboys.com
Aug. 31 – Nate Botsford, country recording artist and band who bring the party with recognizable hits that span genres and original songs. natebotsfordmusic.com
Friday Night Movies in the Park
The Friday Night Movie Series presents well-loved favorites for all ages, starting at 8:30 p.m., with Kitsap Bank providing popcorn.
Movie Schedule:
July 16 – "Honey, I Shrunk the Kids," a 1989 classic film that offers a charming, high-spirited sense of adventure for the whole family. Rated PG, 1 hr 30 minutes.
July 23 – "Grease," a pleasing, energetic musical with infectiously catchy songs and an ode to young love that never gets old. Rated PG, 1 hr 50 minutes.
July 30 – "Indiana Jones and the Raiders of the Lost Ark," with sly humor and white-knuckle action, one of the most entertaining adventure pictures of all time. Rated PG, 1 hr 55 minutes.
Aug. 6 – "Moana," a newer Disney favorite, with family-friendly adventure for all ages. Rated G, 1 hr 53 minutes.
Aug. 13 – "A League of Their Own," a mix of sports and nostalgia mix. Rated PG, 2 hrs, 6 minutes.
Aug. 27 – "Ferris Bueller's Day Off," an ultra-classic about cutting class, being young and having fun, suited to all ages. Rated PG-13, 1 hr 43 minutes.
Pack a picnic or order delivery from favorite downtown eateries. Chairs can be set up after 3 p.m. on the day of the event but roping off seats and chairs/blankets on the Jerisich Dock Viewing Platform is not permitted. No tents or canopies are allowed, but small umbrellas can be used. All Gig Harbor parks are smoke, vape, and alcohol-free.