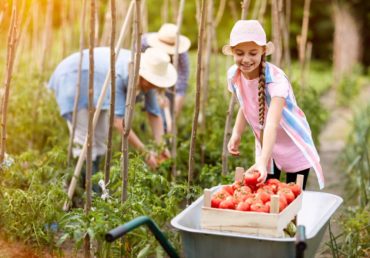 Kitsap Harvest is a program that organizes volunteers to pick surplus fruits and veggies from farms, yards and gardens across Kitsap County. This activity is called "gleaning." Kitsap Harvest donates the fresh produce to local organizations that feed people, like food banks, shelters, school summer meal programs and senior residences.
Kitsap Harvest needs your help to pick more produce. Both individuals and groups are welcome to volunteer. Gleaning is a great team-building opportunity for your business, organization, or family.
To become a volunteer, browse the volunteer opportunities and complete the volunteer application. Once you are approved, Kitsap Harvest will email you a list of gleaning events you can attend.
You can join one or more gleaning events. They are usually in the mornings and last for a few hours. Children are welcome to attend. (Bonus: Volunteers can choose to take home a portion of the harvested produce)
More About Gleaning
Information provided by Kitsap County and WSU Kitsap Extension
The average American household throws out 25 percent of the food purchased. For a family of four, that's around $1,600 a year in wasted food.
To make a change, start with small shifts in the way you shop, prepare and serve food. Think about the last food you tossed — why wasn't it eaten?
Moldy or overripe? Visit stilltasty.com to learn the best way to store your foods. Hint: the freezer is your friend and fruit bowls are not.
Past date? The USDA states that even if the expiration date on your food item has passed, it should still be safe to eat if handled properly. Your nose and eyes are the best way to determine if food is unsafe. Learn about misleading food dates at StopFoodWaste.org.
Bought too much? Ever find yourself with too much food after a party? Before you shop for your next event, use the Guest-Imator tool to make a realistic estimate of how much your guests will eat.
High hopes, no plans? Avoid buying foods without a plan for them. If you see a new food you'd like to try, first go home and Google a recipe. Keep a list of your family's favorite meals so you can fall back on familiar recipes. Make shopping lists and stick to them.
A word on composting: Food was grown to be eaten, not composted. According to the U.S. EPA's Food Recovery Hierarchy, composting is among the least preferred solutions to food waste. When we throw away or compost food, we also waste all the water and energy used to produce, package, and transport food from the farm to our plates.
For more information, visit the WSU Kitsap Extension website.