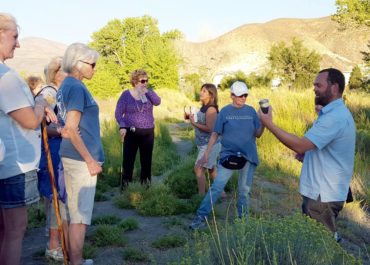 The Great Peninsula Conservancy (GPC) is launching an event series across Kitsap Peninsula in August. Nate Daniel, the new executive director of GPC, will lead nature tours through three well-known community greenspaces and parks: Ueland Tree Farm, Port Gamble Forest Heritage Park and Banner Forest Heritage Park.
GPC is a community-driven organization that connects members to nature through volunteer stewardship opportunities, property tours and educational events. Daniel is excited to offer this opportunity for people across the region to come together to enjoy a summer evening hike and discuss the future of conservation on the peninsula.
"This is a chance for me to learn from the people who walk these trails every day and take that back to the organization. As we head into the next decade of our conservation mission, we want to focus on the best ways to serve our community and connect more people to the land," he said.
All tours will start in the main parking lot of each location and will run from 6:30 to 7:30 p.m.
Tour dates:
Aug. 7: Ueland Tree Farm, Bremerton
Aug. 14: Port Gamble Forest Heritage Park, Kingston (east parking lot off 104)
Aug. 21: Banner Forest Heritage Park, Port Orchard (parking lot off Banner Rd SE)
Please RSVP online at greatpeninsula.org/events.