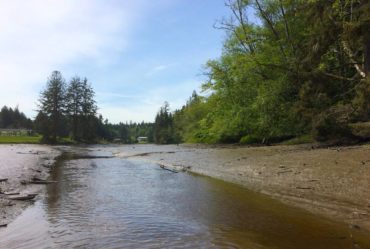 Great Peninsula Conservancy has partnered with Friends of Miller Bay to save 13 acres of critical forest and shoreline habitat on Miller Bay in north Kitsap County. The preserve connects conserved lands in the Grovers Creek Watershed.
Great Peninsula Conservancy (GPC) — a land trust working in Kitsap, north Mason, and west Pierce counties — will manage the 13-acre Miller Bay Preserve in perpetuity as a nature preserve for the benefit of people and wildlife. Friends of Miller Bay — a nonprofit community-based organization — is partnering with GPC to protect the preserve by activating local residents to help care for the land and raising $150,000 to close a funding gap to purchase the property. GPC also received $150,000 from the Estuary and Salmon Restoration Program and has contributed an additional $100,000 for the acquisition.
"Great Peninsula Conservancy is excited to partner with Friends of Miller Bay and local residents to help protect this ecologically-valuable preserve from the threat of development. The shoreline and forest are in good condition and, left untouched, will continue to provide ecosystem services to the endangered salmon and trout populations," said GPC Executive Director Nathan Daniel.
Miller Bay provides habitat for wildlife, and its significant stretch of forested shoreline makes it one of the most scenic coastal inlets on the peninsula. At low tide, the estuary waters recede, revealing expansive mudflats and a meandering stream that runs through the "gooseneck" of Miller Bay to the mouth of Grovers Creek. Juvenile salmon feed on the insects, crustaceans and smaller fish abundant in the tidal wetlands. Birds nest in the forest's mossy undergrowth and forage along the water. And black bear and deer take shelter in the mature forest beyond the shoreline.
"This is a wonderful opportunity to add to Miller Bay's protected greenspaces, shoreline and waterways that are so important to all of us that live here," said Paul Dorn, president of the Friends of Miller Bay. "Whether driving along Miller Bay Road or paddling in the bay, these natural landscapes are beautiful, diverse and vanishing."
The Miller Bay Preserve lies adjacent to a GPC-owned nature preserve and a 40-acre forest property owned by the Washington Department of Natural Resources. The 13-acre Miller Bay Preserve will link these properties and together will protect 56 acres of forest and over 1,500 continuous feet of shoreline.
Half a mile upstream lies GPC's Durham Preserve, which protects a significant stretch of Grovers Creek and is adjacent to the Suquamish Tribe's hatchery. Together, the conserved lands provide a wildlife corridor for deer, river otter and black bear, and critical habitat for multiple species of salmon and trout.
During summer 2019, all gifts made to the Miller Bay Campaign will be matched dollar for dollar thanks to a handful of Friends of Miller Bay members, who pledged $75,000. To learn more or to donate to the campaign, visit www.friendsofmillerbay.org