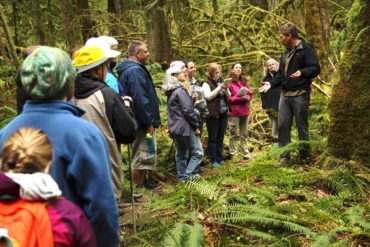 Have you ever hit the trail instead of the grocery store for your dinner ingredients?
With spring in bloom, edible flowers, roots, barks and mushrooms cover the forest floor. In April, WSU Kitsap County Extension, Olympic College and the Keta Legacy Foundation partnered to share this bounty with Kitsap residents through a Wild Food Exploration and Cooking Demonstration. Renowned writer and instructor on wild foods Langdon Cook led this adventure, showing event participants how to identify wild edibles and how to use them in everyday cooking.
Participants met Cook at the Keta Legacy Foundation (formerly the Mountaineers Foundation) Rhododendron Preserve in Bremerton to hike down Big Tree trail and experience first-hand how to identify and ethically harvest wild foods.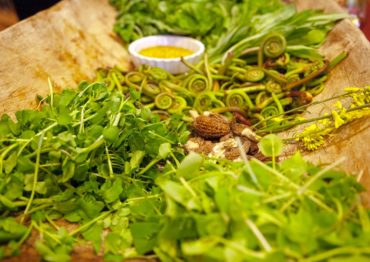 Surrounded by old growth Douglas firs, cedars and pines, the class explored the gourmet banquet that the forest provides. The nature walk concluded with Cook's personal recipes and tricks for meal preparation before heading to the kitchen at Olympic College for a cooking demonstration and hands-on workshop.
At Olympic College, Cook teamed up with chef Chris Plemmons to whip up a spectacular feast for excited participants. The duo showcased their knowledge by transforming foraged foods into delicious culinary creations, including stinging nettle soup, wild watercress and miners lettuce with bee pollen dressing, and pickled fiddleheads.
Participants were also busy in the kitchen, working alongside the instructors to prepare the soups and pickled fiddleheads. All the action in the kitchen culminated in a group dinner, giving everyone the chance to enjoy their wild food creations and take a little extra home with them.
WSU Kitsap County Extension plans to develop more creative events like this, so sign up for the newsletter if you'd like to hear about these and other opportunities in the future. To learn more about WSU Kitsap Extension Water Stewardship programs, go to this external link.