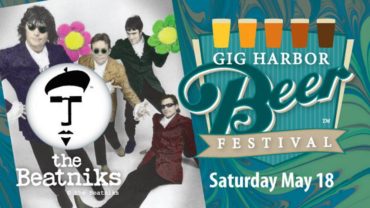 The unofficial summer kickoff in Gig Harbor starts with an annual fundraiser benefitting the Gig Harbor Kiwanis. The Eighth Annual Gig Harbor Beer Festival on Saturday, May 18, brings 25 brewers to the Uptown Gig Harbor Pavilion from noon to 5 p.m. — plus a cider booth, the popular Heritage Distillery and a live music lineup.
Organizers expect another enthusiastic beer-loving, cider-sipping and can't-get-enough-of-Heritage-Distillery crowd at this popular community event.
Ticket price includes:
5 oz. Pilsner cup — courtesy of WA Lottery • Department of Imagination
8 taster tokens — courtesy of Gig Harbor Brewing Co.
Festival program — courtesy of DPI Print
First-time breweries to the festival include Acorn Brewing, Bad Bulldogs Brewing, Boundary Bay Brewing, Deep Draft Brewing and Discovery Bay Brewing. Locally owned Heritage Distillery will also be pouring its famous mini cocktails in the Heritage Lounge.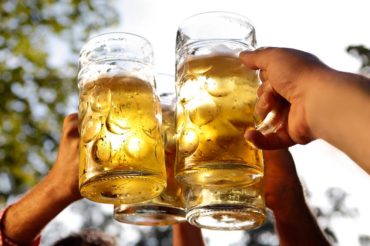 Bands performing this year are Surf Wax Americans (Weezer tribute band) and Gig Harbor's home-grown favorite, the Beatniks. One of Puget Sound's most popular bands for decades, the Beatniks will take you down Memory Lane with their music of the '60s', '70s and '80s. They're known for performing for the Seahawks and the Mariners, among other sports teams, as well as jamming for Bruce Willis, Paul Allen, Richard Karn and companies from Microsoft to Nike.
Tickets are $30 online at www.brownpapertickets.com/event/4057229 and will also be available at the door the day of the event.
The complete brewer's list includes:
7 Seas Brewing Co.
Acorn Brewing
Bent Bine Brewing Co.
Bad Bulldogs Brewing
Boundary Bay Brewing
Cash Brewing Co.
Deep Draft Brewing
Discovery Bay Brewing
EW2 Brewing
Fox Island Brewing
Ghostfish Brewing Co.
Gig Harbor Brewing Co.
Harmon Brewing Co.
Hood Canal Brewing
Pacific Brewing & Malting Co.
Pelican Brewing
Rainy Daze Brewing Co.
RAM Big Horn Brewery
Silver City Brewery
Slaughter County Brewing Co.
Slippery Pig Brewing Co.
Sound Brewing Co.
Top Rung Brewing Co.
Wet Coast Brewing Co.
Wingman Brewing Co.
For more information, go to gigharborbeerfestival.com.