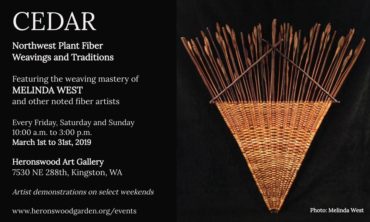 Beginning March 1, the Heronswood Art Gallery will hosting CEDAR: Northwest Fiber Weavings & Traditions, an exhibit featuring the weaving mastery of Melinda West and other noted fiber artists.
West is an Indianola artist and teacher who has been developing her craft for over two decades. She is respected for her unique designs and thoughtful approach to materials gathering, all done with a deep appreciation and sensitivity for the natural world.
"Many of my teachers are Salish peoples, whose family of ancestors invented and sustained a world of environmental knowledge through their stories and cultural practices, including the uses of native plants," West said. "Sharing a love of culture, environmental stewardship, and the healing nature of weaving with plants is my passion."
The exhibit will also include works by Darlene Peters, Melissa Streun, Polly Sutton and Sue Skelly, and run through 31. Gallery hours are 10 a.m. to 3 p.m.
Select weekends will include artist demonstrations. If you visit the exhibit Friday-Sunday, you can also take a self-guided tour of the Heronswood Gardens and stroll through the magnificent landscape.