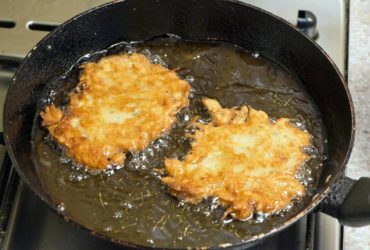 Kitsap residents can now recycle their used cooking oil for free at the South Kitsap Recycling and Garbage Facility in Olalla. This is the fourth cooking oil recycling station in the county.
Why is it important to recycle used cooking oil? Cooking oil poured down the drain clogs pipes used in sewer and septic systems. These clogs cause 65 percent of sewage spills, according to the county.
What happens to the cooking oil? It is refined and recycled into biodiesel in Salem, Oregon, by a company called SeQuential. Biodiesel is a clean, nontoxic alternative to petroleum diesel with a carbon footprint up to 85 percent smaller than petroleum diesel.
According to SeQuential, oil is essentially "pure energy." That's why it's often recycled into biodiesel — but there are various other uses for manufacturing purposes. SeQuential says the California Air Resource Board ranks the company's carbon intensity — the amount of carbon it takes to produce a megajoule of energy — at 18.57. By comparison, biodiesel made from soybeans is ranked 83.25.
How to use cooking oil recycling stations:
Stations are for residents with cooking oil from their home kitchens. Cooking oil from businesses cannot be recycled at these stations.
Before bringing your cooking oil, filter it at home using a strainer, coffee filter or cheesecloth. Throw away the food particles you filtered out. Make sure the oil cools off completely before you handle it.
Take your empty container home to reuse or throw away. Do not leave it in the recycling area.
All four county-owned disposal and recycling facilities now have used cooking-oil recycling stations. For driving directions and hours, visit kcowa.us/dropoff.
Facilities locations:
North Kitsap Recycling and Garbage Facility (Hansville)
7791 NE Ecology Road, Kingston
Central Kitsap Recycling and Garbage Facility
8843 NW Dickey Road, Silverdale
South Kitsap Recycling and Garbage Facility
2850 SE Burley – Olalla Road, Olalla
Olympic View Transfer Station
9380 SW Barney White Road, Bremerton