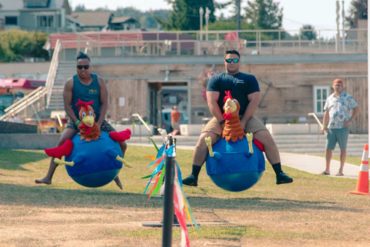 After a 70-year absence, the Gig Harbor Rooster Races made a triumphant return to the Gig Harbor waterfront in July at Skansie Brothers Park during the Gig Harbor Downtown Waterfront Alliance's Waterfront Block Party. The event pitted contestants against each other on adult-size bouncy balls adorned with rooster heads, wings and tails. It was quite a sight to see, according to the organizers.
The inaugural race was sponsored by Gig Harbor Brewing Co. and benefited the Harbor History Museum. Organizers plan to make this an annual event.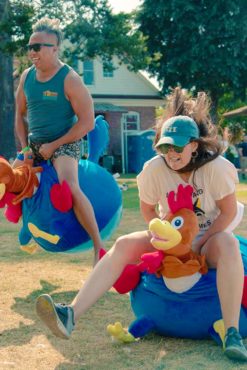 Rooster Races started back in 1935 when a Gig Harbor entrepreneur named Clarence E. Shaw wanted to create a new and whimsical sporting event. He remembered how the chickens would come running when his mother banged on a feed pan in the farmyard and he decided that a rooster race would put Gig Harbor on the map.
The first race was appropriately comical — one of seven contestants skedaddled from the start line and was not found for days. But the crowd loved it and "there was enough press coverage to convince Shaw he had a winning idea."
He built an 80-foot racetrack, lined with a miniature village called Roosterville. He put "jockey shirts" on the roosters for easy identification and hired pretty local girls to be Roosterettes.
The event made national news and in 1938, when Shaw and his roosters were whisked to New York to race in Madison Square Garden. The Rooster Races continued to be a Gig Harbor tradition until the novelty wore off in 1948.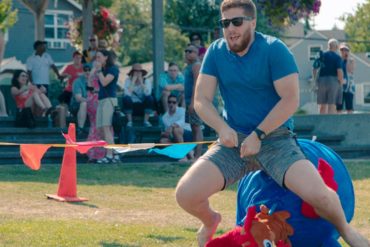 Knowing that racing live roosters around a track wouldn't "fly" in 2018, the producers of the event, Fosberg Media Group, Inc., concocted a modern version — with human contestants bouncing down a short, 25-yard sprint course in a single-elimination bracketed contest.
Prizes were a awarded for first and second places. All contestants insisted they would be returning next year to participate again.
Prizes included a trophy for first place, Gig Harbor Brewing hats and cases of Gig Harbor's Racing Rooster Red Ale, named after the original races started by Shaw back in the '30s.