The nonprofit Collings Foundation has the mission to preserve and exhibit rare historical artifacts and to organize "living history" events that educate Americans about their heritage through direct participation. One of its signature events is the "Wings of Freedom Tour" — and in June, the tour makes a stop in Bremerton.
The goal of the Wings of Freedom Tour is to honor sacrifices made by veterans, as well as to educated visitors — especially youth — about the country's history and heritage. Participating in the Collings Foundation's Wings of Freedom Tour this year are the B-17 Flying Fortress "Nine O Nine," Consolidated B-24 Liberator "Witchcraft," B-25 Mitchell "Tondelayo" bombers and P-51 Mustang "Toulouse Nuts" fighter. These unique aircraft will fly into Bremerton National Airport from June 18 through June 20.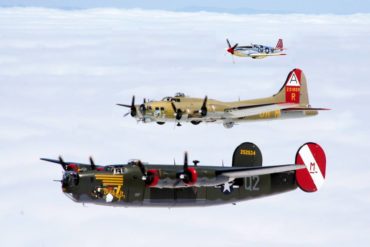 This is a rare opportunity to visit, explore and learn more about these treasures of aviation history. Cost is $15 for adults and $5 for children under 12 and covers close viewing and tours through the inside of the aircraft.
Flights are also available. Flight experience pricing can be found on the Wings of Freedom webpage.
In addition, coordination is underway to once again feature the Port Orchard Living History Museum and a unique display of vintage military vehicles. More details will be made available on the Port of Bremerton webpage.
The Wings of Freedom Tour visits are not a set annual occurrence and may only take place every few years. The Port of Bremerton encourages people to visit the Bremerton National Airport and take in some aviation history while the opportunity is here.
Hours of ground tours and display are:
Monday, June 18: noon to 5 p.m.
Tuesday, June 19: 9 a.m. to 5 p.m.
Wednesday, June 20: 9 a.m. to noon
The 30-minute flight experiences are normally scheduled before and after the ground tour times above:
30-min flight on the B-17 or B-24 is $450 per person
30-min flight on the B-25 is $400 per person
30-min flight training on the TF-51D is $2,200
60-min flight training on the TF-51D is $3,200
The tour first came to Bremerton National Airport in 1993. The Wings of Freedom Tour travels the nation as a flying tribute to the flight crews who flew them, the ground crews who maintained them, the workers who built them, the soldiers, sailors and airmen they helped protect; and the citizens and families that share the freedom that they helped preserve. The rarity of the B-17, B-25, B-24 & P-51 – and their importance to telling the story of WWII — is why the Collings Foundation continues to fly and display the aircraft nationwide.
For aviation enthusiasts, the tour provides veterans and their families a chance to visit and share their experiences and stories with the public. Click here for more information about the Wings of Freedom Tour and their visit to Bremerton National Airport.