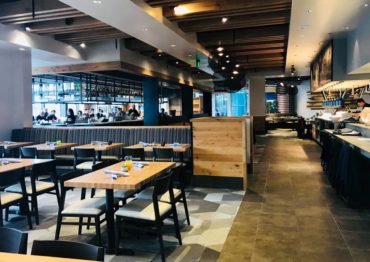 If you've always wanted more things to do for kids and kids at heart in Gig Harbor, your wish has come true. Gig Harbor's newest venue, Ocean5, is a gathering space that includes a place to play laser tag and bowl, plus a lot more.
Anchored by the full-service restaurant Table 47, Ocean5 also includes a coffee lounge, a high-energy game arcade, a wine and beer bar and two casual lounges.
Table 47, dedicated to local, responsibly sourced and farm-fresh cuisine, started dinner service on April 8.
Table 47 and Ocean5 are the passion project of former Starbucks chief operating officer and longtime Gig Harbor resident Troy Alstead. The restaurant, adjacent to Ocean5, brings to life his vision of a community connected by the shared experience of delicious food.
"Food brings us together more than anything else in this world," Alstead says. "I want to make that connection even more meaningful by integrating every aspect of our local community in one special place, Table 47."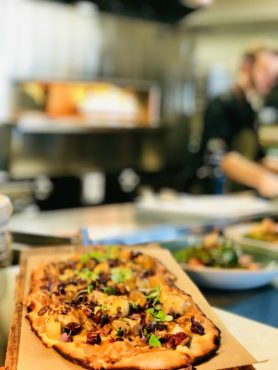 Alstead and his team have carefully explored and built relationships with the area's farmers and purveyors to source the highest-quality ingredients with the lowest environmental impact. The restaurant space was also designed to reflect the Pacific Northwest and nurture the community it serves.
With nearly 30 years of experience helping to shape the Northwest culinary landscape, Executive Chef Ian Wingate shares Alstead's vision.
"This part of the world is like no other in the scope and variety of its native bounty," says Wingate. "I'm very excited to lead this exceptionally talented team, all sharing a philosophy about letting the farms and season define the menu."
Table 47's menu features a rotating list of land and sea dishes, flatbreads, sandwiches and salads, with many plant-based and gluten-free options. Highlights include: smoked BBQ brisket nachos, farm beet salad, butternut squash flatbread, local oysters, roasted farm chicken and the blended Parallel Burger. Table 47 also includes a full bar with beverages from craft cocktails to more than 40 Northwest wines and beer on tap.

Table 47 will soon integrate a monthly farm-dinner series, each showcasing a different local farm. The meals will include a multicourse, prix-fixe menu and in-person connection with local growers.
Alstead envisioned Ocean5 as a destination gathering spot. Named after five oceans, Ocean5 is an environmentally sustainable building that reflects his passion for the sea and the ocean. The energy-efficient building is in the process of applying for LEED certification and has features such as solar tubes and recycling materials.
For more information about Ocean 5, visit www.o5social.com and to learn more about Table 47, go to www.T47.com.