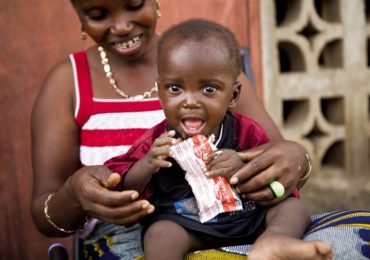 Hope is a gift on every child's wish list, especially those in parts of the world ravaged by natural disasters and poverty. Giving hope lets these children know that the world hasn't forgotten them.
If you're looking for a gift with a purpose, buying through the UNICEF Market program or its partners gives you the chance to buy gifts that make a difference and deliver the greatest gift of all: hope.
Goods from Around the Globe
From jewelry to accessories to home decor, each item purchased through the UNICEF Market benefits programs that provide children with basic necessities such as nutrition, medicine, education, clean water and more. The UNICEF Market, market.unicefusa.org, is a partnership between UNICEF USA and Novica that offers unique items such as multicolored snowman ornaments made in India and an artisan leather tray handmade in Peru.
Inspired Giving
Another option is UNICEF Inspired Gifts, which are lifesaving items that can be purchased in honor of a loved one and go directly to help children in need around the world. Examples include hygiene kits, mosquito nets and winter survival packs. Find more options at inspiredgifts.org.
Kid-Friendly Inspiration
Motivate kids, inspire philanthropy and help save the lives of malnourished children around the world with the Star Wars: Force for Change UNICEF Kid Power Band. Every movement made while wearing the activity band adds up to points that unlock lifesaving nutrition, which is sent to malnourished children around the world. Bands are available at Target or unicefkidpower.org.
Accessories with Purpose
This holiday season, ALEX AND ANI is spreading a message of world peace with a jewelry collection that features the iconic peace symbol and benefits UNICEF's work for children. The World Peace collection includes an online-exclusive sterling silver necklace with Swarovski crystals, a charm bracelet and a trend necklace.
In addition, bracelets with a festive-themed snowman, daisy and a mother and child charm also support the cause. Until Aug. 31, 2018, ALEX AND ANI will donate 20 percent of the purchase price of all items sold through its retail stores, authorized retailers and on alexandani.com.
Comfort that Keeps on Giving
To help children around the world, L'Occitane will donate $4 from each Shea Butter Collection and Shea Butter Deluxe Collection Gift Sets to UNICEF, up to $120,000. The gift sets are available for purchase at boutiques throughout the United States and Canada, and online at usa.loccitane.com.
Giving a gift that inspires hope this holiday season can impact not only the person receiving the gift but also vulnerable children around the world.