Kitsap County Parks has completed upgrades to the equestrian arena at the Kitsap County Fairgrounds and invites the public to a ribbon-cutting ceremony at noon, July 30 at the north end of the fairgrounds (enter off Nels Nelson Road) during a break in the Pre-Fair Miniature Horse Show, which opens at 10 a.m.
The celebration will honor Harry and Jayne Boand, who donated funds for a new roof 2015. In recognition of their generosity, the facility will be known as the Harry and Jayne Boand Equestrian Arena. The construction and upgrades to the 130-by-260-foot arena were completed by the end of 2016 and will be put to good use for the miniature horse events during the upcoming 2017 Kitsap Fair and Stampede Aug. 23-27.
The arena is now large enough to host horse shows and equestrian competitions all year. In addition to a new 33,800 square-foot roof over the arena, fencing, lighting, stormwater management and signage were improved, and the electrical system upgraded, thanks to donations and deep discounts from local businesses and individuals. A new announcer's booth was also installed.
Ron Gascoyne, a volunteer with the fair's mini-horse program and owner of Seven Wells Ranch in Seabeck, first proposed the improvements. He saw the need for local 4-H clubs and equestrian organizations to have a facility that could be used year-round.
"There were no large covered arenas like that in the whole county or the neighboring ones," he said.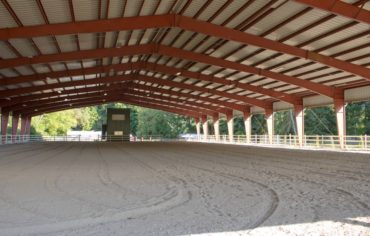 So he applied for a grant from the Boand Family Foundation and was awarded $500,000. Kitsap Community Foundation stepped up to serve as fiscal manager of the grant and oversee construction on behalf of the county's Parks Department.
"The foundation is ecstatic to be a part of creating the first public equestrian arena in the county that has a roof," said Kitsap Community Foundation Executive Director Kol Medina.
Not only did Gascoyne find funding, he also donated his time to manage the project, sought out a cost-efficient roof kit with pre-engineered plans, and oversaw hiring of a contractor. The Board of County Commissioners bestowed special recognition to him July 10 for his contributions.
Other donors to the arena upgrades included: Puget Sound Energy with a $7,500 grant for LED lighting, Graybar Electric Co. for light fixtures, Viking Fence for fencing and installation, Lowe's of Silverdale for discounted lighting and plants, Asbury's Topsoil for landscaping materials, MAP LTD for assistance in site plans and a stormwater management plan, Rock Cement Co. for discounted cement, Keith Humond for signage, Silver Spurs for signage funding, RV & Associates for fill dirt, Mike Hawley for hydro-grass seeding and Ed Marshal of Peninsula Pole for discounted electrical upgrades.
The Parks Department is working with other organizations to take over operations of the facility.
Click here for more information about the Kitsap County Fair & Stampede Aug. 23-27. For additional information about Kitsap County Parks, go to www.kitsapgov.com/parks.