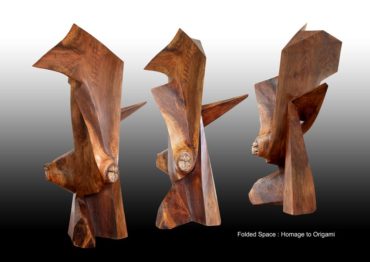 Bremerton sculptor Alan Neweberg breathes new life into old wood — creating semi-abstract, large-scale, highly finished carvings from fine woods such as black walnut and clear fir. As tall as 9 feet, the sculptures — geometric pieces with straight lines and hard edges — suggest human or animal subjects.
Some pieces take their inspiration from physics, astronomy or biology, others from contemporary literature and current events. Art critic Alec Clayton said this about Newberg's works in the July showing at the B2 Gallery in Tacoma: "Newberg's sculptures are imposing works in wood that exploit the natural properties of the material to great effect. Two of them are freestanding sculptures that stand 7 or 8 feet tall and have a monumental feel to them."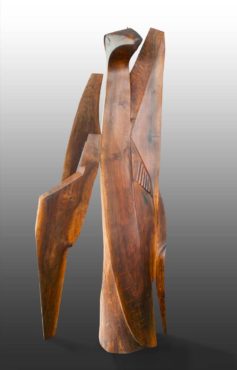 Through mid-February, you can see Newberg's work in a solo exhibition at the Bainbridge Island Art Museum's Lovelace Gallery. Feel the emotion of the sculptures and appreciate the intricate details of the wood's grain, textures and colors.
Before moving to Kitsap and locating his studio in Central Kitsap, Newberg was a professor of art and department chair at Montana State University Billings. In addition to his studio work, he taught drawing, painting, design, sculpture and art history at Olympic College from 1989 to 2009.
A founding member of the Collective Visions Gallery in Bremerton, he is the lead organizer of the CVG Show, the premier juried art competition in Washington state, now in it's 10th year. His work has been exhibited widely and has won various awards. Newberg's art can be found in numerous museum, corporate and private collections.