The family of Helen Langer Smith and Kitsap Bank were recently recognized with philanthropy awards for their decades-long generosity and loyal support of Martha & Mary. The awards were given during the organization's annual Donor Appreciation Reception, which recognizes the important role that donors play in caring for the seniors, children and their families that Martha & Mary serves.
The Langer Smith family's involvement with Martha & Mary reaches back to the organization's origins as a children's home. Family members have provided funding and served as volunteers, and a number of relatives have directly benefitted from the nonprofit senior healthcare and housing and childcare organization's services. This deep and early bond has resulted in the family remaining strong proponents and supporters over the years.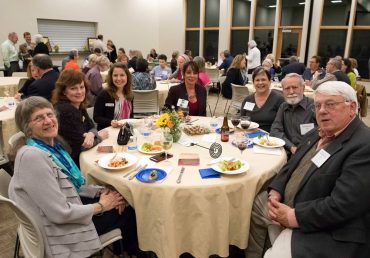 Kitsap Bank and the Langer Smith family's history in the region spans more than a century. Kitsap Bank was founded in 1908, and Frank E. Langer, Jr. purchased controlling interest in the bank just 14 years after its founding in Port Orchard.
Today, Kitsap Bank's Board of Directors is led by the third generation of Langer Smith women. Hannah Langer, Frank Langer's wife, became the first female bank president west of the Mississippi River when she took over leadership after her husband passed away.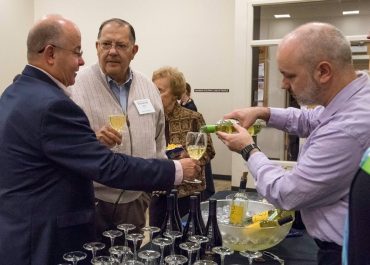 Her daughter, Helen Langer Smith, became chairwoman of the Board in 1986. She was succeeded as chairwoman by her daughter, Cydly Smith, in 2011.
Kitsap Bank is one of the county's most generous funders, contributing to dozens of local nonprofits, including Martha & Mary. In the past five years alone, the bank has invested more than $1.25 million and countless hours in our community through sponsorships, donations and employee activities.
"We are thrilled to honor this family and Kitsap Bank," said Paula Rimmer, Martha & Mary's director of development. "It's especially fitting during our 125th anniversary celebration — paying tribute to a business and philanthropists who have done so much to shape the quality of life in Kitsap."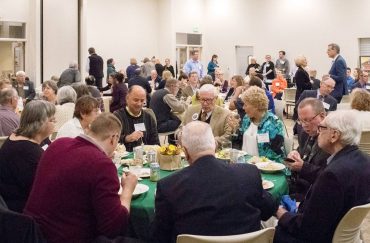 Now more than ever, the support of our community is vital to Martha & Mary's ability to serve the community. Contributions help us stretch dollars further and to bridge a financial gap — in 2015, Martha & Mary provided more than $2.3 million in undercompensated care.
To learn more about Martha & Mary's services, go to marthaandmary.org.
See more scenes from this event in the upcoming Jan/Feb 2017 issue of WestSound Magazine.