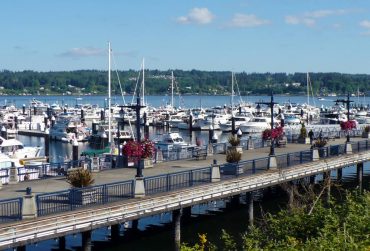 Now in its fourth year, the Rock the Dock concert series on the Louis Mentor Boardwalk at the Bremerton Marina kicks off with a bang on July 4. This summer's entertainment line-up features 16 special performances over eight nights that encompass a wide musical spectrum and even includes salsa lessons.
The lineup of local and regional talent has something for all music tastes, from folk to country, pop, jazz and good old rock 'n roll.
In recent years, the Port of Bremerton and the Downtown Bremerton Association have made significant investments in the stage, lighting and sound system. This, combined with the beautiful marina that can accommodate up to 100 visiting boats and the gorgeous waterfront setting, makes Bremerton Boardwalk one of the finest outdoor music venues in the Puget Sound.
Kicking off the free concert series and pulling out all the stops is a special Independence Day celebration with five hours of unforgettable music from four bands and a first-class, front-row seat to the Sinclair Inlet Fireworks Show.
The evening includes a headline performance from a Prince tribute band featuring classic Prince songs from his ultimate collection. The party starts early at 4 p.m. when the beer garden and food trucks open and runs all the way until the twilight's last gleaming, followed by the spectacular fireworks show at 10:30 p.m.
The Saturday night concerts are from 5 to 8 p.m. (with the exception of Monday, July 4). Food vendor/trucks and the beer and wine garden open at 4 p.m.
Complete concert line-up:
July 4: James Hunnicutt; Nuthin Street; The Fame Riot: Erotic City Prince Tribute
July 9: Micaela Kingslight and Heart by Heart
July 23: The Malo Combo with salsa dance lessons
July 30: Jazz Ambassadors and Soul Siren
August 6: Afton Pratter and Chance McKinney
August 13: Boy Blue and Tres Hombres
August 20: Small Tribes and Nick Drummond Band
August 27: Randy Linder Band
More Details About the Performances
July 4
James Hunnicutt is a local singer and songwriter who has toured the world. His solo acoustic session feels like an entire band is playing and grabs your attention from the start to finish. His music is reminiscent of classic rock, country and rock combined.
Nuthin Street is not your typical classic rock cover band. They do everything from The Kinks to Jethro Tull, and from Stevie Wonder to Devo!
The Fame Riot is a pair of brothers who are at the forefront of a shift in musical style and culture, drawing influences from the last four decades of rock, pop, electronica, disco and everything in-between.
Erotic City Prince Tribute — It's time to party like its 1999, and Erotic City doesn't hold back with the high heels, the lace pants, the "infamous" purple coat, and all of the sexiness you will get in a Prince show! For the last 20 years, Julian Stefoni has been paying tribute to his purple majesty. Playing guitar, keyboards, singing and dancing/performing and backed by some really funky musicians, Erotic City delivers a high energy show that features classic Prince songs from his ultimate collection.
July 9
With a powerful voice and a fiercely elegant guitar style, Micaela Kingslight never fails to amaze and inspire crowds with her original songs. Her voice is often compared to Fiona Apple and Alicia Keyes, while her guitar playing is reminiscent of Carlos Santana, David Gilmore and Jimmy Page.
Heart By Heart is a spin off Heart that performs '70s and '80s Heart songs with power and precision. Expect some very skilled dedicated musicians, including original members Mike Derosier and Steve Fossen, who love, respect and honor the songs and historical significance of the music of Heart.
July 16
No concert. Bremerton Summer Brewfest — The concert series takes a break on July 16 but there's still plenty of fun to be had on the waterfront at the Bremerton Summer Brewfest (July 15 and 16), which features 30 Washington breweries pouring more than 100 craft beers. To celebrate summer, the Washington brewers will be focusing on fruit-infused beers.
July 23
Appreciate the warm summer air as you dance the night away with Latin music and salsa lessons. The Malo Combo specializes in music from the Caribbean. Malo and his wife, Rose, have been teaching salsa, cha cha, and merengue all over Kitsap County since 1999. They'll be giving salsa lessons from 5 to 6 p.m. and then will play from 6:15 to 8 and you can practice what you learned!
July 30
Doo wah, doo wah, doo wah, doo wah, it will have that swing! Jazz Ambassadors will kick off the evening playing jazz hits followed by Soul Siren, playing everything from funk & soul to rock and top 40 dance favorites from the '60s, '70s, '80s and '90s.
August 6
Afton Prater is a country-pop 17-year-old singer/songwriter/guitarist from Seabeck. She was voted Best Teen Songwriter and Best Country Songwriter in the 2013 Indie Music Channel Songwriting Competition and received awards for Best Female Teen Artist and Best Teen Album (Stay with Me) at the 2014 Indie Music Channel Annual Awards Ceremony. She is an amazing performer whose music touches people of all ages.
Chance McKinney won Country Music Television's search the No. 1 "unsigned" artist in the nation in 2009, taking home the Music City Madness title with more than one million votes in the final round alone. Since then McKinney has opened for Kenny Chesney and shared stages with Dwight Yoakam, Jamie O'Neal, Grand Funk Railroad, Pat Green, Blake Shelton, Luke Bryan, Creedence Clearwater, .38 Special and Lynyrd Skynyrd. His "industrialized country" is a blend of country music with '90s rock, '60s Motown and heavy metal influences.
August 13
Tres Hombres is led by Tom Pike, a musical icon of Bremerton. This fun ZZ Top tribute is a hometown band that only comes out for those one-of-a-kind occasions such as Rock the Dock.
Back by popular demand for the second year in a row is Port Orchard's very own Boy Blue Band. This great local Kitsap County cover band plays music from the '80s to 2000.
August 20
It's a night of Indie Pop Rock with Marc Harris, Matt Melanson and Cody Gates of Bremerton's Small Tribes and songs from their newly released album, The Good Time People.
Nick Drummond's distinct sound includes elements of Afro-pop, funk and country welded to the heavy backbeat of hard rock. The Seattle Weekly praised his music as "an absolutely stellar combination of upbeat alt-folk that's mesmerizing and radiates talent."
August 27
Wrap up the Summer Concert Series with the Randy Linder Band and an evening of amazing classic rock. Randy is well-known as a Credence Clearwater Revival tribute. For his Rock the Dock performance, he will be playing all of the CCR favorites as well many other classic rock hits.
Rock the Dock is made possible by a partnership of the Port of Bremerton, city of Bremerton and the Downtown Bremerton Association. Sponsors include Anthony's at Sinclair Inlet, B&B Auto Repair, Cash America, Fingers Duke Design Studio, Fred Meyer, Kitsap Credit Union, the Manette Clinic, OneBuild, Sound West Group, Tim Ryan Construction and West Hills Autoplex. For more information, visit: www.Facebook.com/DowntownBremerton