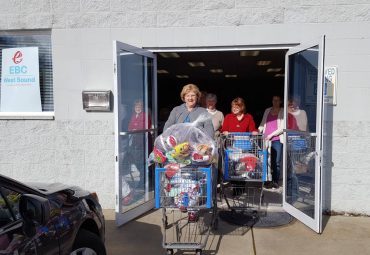 Eastside Baby Corner (EBC), an Issaquah-based nonprofit in operation for 26 years, opened a branch in Bremerton last month. The new EBC – West Sound, set to have a grand opening event on June 4, is on target to have a substantial coverage area that extends from the Tacoma Narrows Bridge to the Hood Canal Bridge.
The mission of EBC and the West Sound branch is to help children living in poverty or crisis by making sure they have basic necessities — like diapers, food and formula, and clothing that fits — so they can have a better start in life. EBC gets the items to children by working through established social service organizations. These organizations assess the needs of the children they serve and order items from EBC.
Volunteers at EBC compile the items, and the organization can pick them up the following week, free of charge. EBC can offer the items for free because most come in as donations from the community — when another child outgrows his or her clothing for example. Other items are purchased with funds donated to EBC.
"The EBC model is a very special one," says EBC Executive Director Renee Zimmerman. "It's about community helping community. The community donates children's items they no longer need, volunteers from the community help sort the items and prepare them to go back out, service organizations identify the need in the community, and together we make sure our local children are safe, healthy and warm."
The EBC – WS grand opening, which is open to the public, is scheduled for Saturday, June 4, from 1:30 to 3:30 p.m. The distribution center, or "hubette," as the location is affectionately called, is located at 1463 NE Dawn Road in Bremerton, WA. Those interesting in attending are asked to email westsoundinfo [at] babycorner [dot] org to RSVP.
EBC – WS is open for donations on Mondays: 6 – 8 p.m., Thursdays: 9 -11 a.m., and Saturdays 9 a.m. – noon. A list of accepted items is available at www.babycorner.org/donate-goods/.
Those interested in volunteering can sign up at www.babycorner.org/volunteer-time. Volunteer shifts are available for the same time shifts as the donation hours listed above.
EBC is also looking for businesses and individuals to host collection drives; please contact them for more information.
Learn more about EBC – WS at www.babycorner.org/ebc-west-sound. For more information about EBC, go to www.babycorner.org.