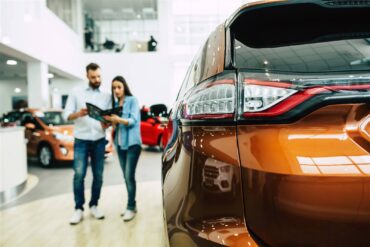 If you ask anyone you know about purchasing their first car, chances are they'll be able to recount every detail (good or bad) about the car and the process of how they got those keys into their hands. Purchasing a car is oftentimes one of the first major decisions for young adults.
That said, car buying can be a daunting task, especially if you aren't familiar with the process or are overwhelmed by the current auto market. Here are five tips to help you navigate getting behind the wheel of your new car with ease:
1. Take an in-depth look at your finances.
The sticker price of the car is not the only cost you should factor into your budget. Other costs, such as dealership and registration fees, insurance, taxes and just general maintenance, play a big part in your overall affordability of a vehicle. With all of this in mind, you can better figure out how much you'll need to finance the vehicle.
There are many tools online to help you get a clearer picture of your budget. For example, Navy Federal Credit Union has online calculators to help members get a sense for what their monthly payments could be, compare loan terms and more.
2. Differentiate between your wants and needs.
List out your wants and needs in a vehicle. Create a list of nonnegotiable items (e.g., number of seats, safety features, rear camera) and another list of nice-to-have features (e.g., keyless entry, navigation system, heated seats). Try to resist add-ons you weren't already planning to get.
With so many vehicles and options to choose from, listing out must-haves and nice-to-haves can help you to avoid overspending while also making sure you get everything that you need out of the vehicle.
3. Look at funding options.
With the prices of both new and used vehicles on the rise, most people will need an auto loan. See what's available in the market — comparing rates and financial options from a dealership and your trusted bank or credit union. Shop around to find the best rate possible.
Financial institutions, such as Navy Federal, offer great rates and even preapproved loans, so you can walk into a dealership with a check in hand just like a cash buyer. On top of that, getting preapproved gives you more negotiating power since you'll know exactly how much you can reasonably afford to pay each month for your vehicle.
4. Negotiate price before mentioning trade-in.
If you're looking to get a new car and have a vehicle to trade in, negotiate the selling price of the new car first. Don't even mention to the dealer that you have a trade-in until after they draw up a buyer's order for the new vehicle and you see everything you are paying for in total.
If you were to tell them about your trade-in, oftentimes dealers will pad the value of your trade-in to make you think you are getting a better deal than you really are. Then, they will adjust the sales price of the new car to be higher than if you didn't have a trade-in. Make sure to negotiate each separately so one doesn't have a negative influence over the other.
5. Do your homework to increase you purchasing power.
Before making any major financial decision, like buying a car, always do your research. Online resources can be helpful for determining a car's value, along with listing safety features and recalls and giving honest dealership reviews so that you have all the information available in your back pocket.
When you're armed with expert knowledge and take the time to prepare, you position yourself to get the best deal possible.