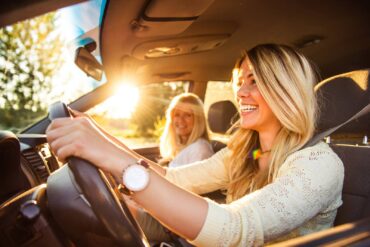 Many young people who have recently received their driver's license look forward to getting behind the wheel and driving to visit friends, attend events and travel in general throughout the summer. However, this time of year is when accidents on the road are more likely to occur. The 100 deadliest driving days of the year fall between Memorial Day and Labor Day. During this period, car accidents tend to increase, including among young drivers.
"During the summer, when school is out and it stays light longer, more teenagers might be on the road driving more miles," said Kevin Quinn, vice president of claims and customer experience at Mercury Insurance. "Many young drivers lack experience and may be more likely to engage in risky behaviors behind the wheel. These behaviors can increase the possibility of an accident."
Some of the leading causes of accidents and fatalities on the road which all drivers should be aware of during this time of year include:
Distracted driving: Texting, talking on the phone or otherwise taking focus off the road greatly increases the risk of an accident among teens, especially if they are traveling with teen passengers.
Speeding: Young and inexperienced drivers are still learning how to adapt their speed to traffic conditions, as well as how to maintain a safe distance from other vehicles.
Impaired driving: Driving while impaired affects judgment, awareness and the ability to react.
Not wearing a seatbelt: Not wearing a seatbelt while driving will increase the likelihood of serious injury or death in the event of a crash.
Quinn offers parents and caregivers the following safety tips to help teens prevent car accidents and ensure the safety of everyone on the road this summer.
Set driving rules.
Establish and define clear rules for your teen driver. They will be less likely to make impulsive decisions while behind the wheel.
Put them in writing.
Teens may promise to be responsible drivers, but they may be tempted to break the rules while driving on their own. Parents can help teens keep their word by having them sign a contract (pdf) stating that they understand the rules for retaining driving privileges, as well as the circumstances under which these privileges would be lost.
Model safe driving behaviors.
Lead by example by always wearing a seatbelt, obeying speed limits and avoiding distractions while driving. Even though they are older, teens are still watching you and modeling their driving behavior after your own.
Practice supervised driving.
Help your teen gain more experience behind the wheel. Supervise your teen while they're driving and reinforce safe driving habits.
Review your auto insurance coverage.
Make sure you have the right amount of protection for the new, young driver in your household that will safeguard them in case of an accident or unexpected event.
Summer is a time of freedom and adventure for many young drivers, but it's also a time when car accidents are more likely to happen. Make sure your teen is extra cautious when behind the wheel to help prevent accidents and ensure a safe summer travel season for everyone.