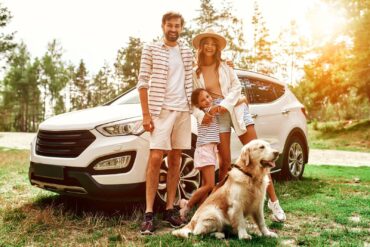 As summer approaches, many people are planning road trips to take that long-awaited vacation or visit friends and family. Before you take to the open road, however, it's important to make sure your vehicle is in top condition. Proper vehicle maintenance is important for the safety of you and your passengers as well as others. It also prevents unexpected breakdowns, which can ruin your trip.
"Before heading out, make sure your vehicle is in good working order and have any necessary maintenance completed," said Kevin Quinn, vice president of auto claims at Mercury Insurance. "Create a checklist of maintenance tasks and have them taken care of to ensure that your vehicle is road-ready. Remember to review your auto coverage as well and be sure to have the right amount of protection in case of an accident or unexpected event."
Maintenance requirements vary depending on the age of your car, mileage and how it's been driven; however, it's still important to conduct the following checks no matter the age of the vehicle you drive. "The average age of a vehicle on the road today has increased to more than 12 years old, making maintenance a must," Quinn said.
Fluids: To keep your vehicle in top condition, have your oil, coolant, brake, transmission fluid and other fluids checked on a regular basis to make sure that they are at the recommended levels and not contaminated. Follow your vehicle owner's manual for recommendations on how frequently these fluids need to be changed.
Tires: Maintaining proper tire pressure is an essential part of car care. Worn-out tires can lead to poor handling and reduced fuel efficiency, as well as blowouts. Refer to the sticker that indicates your tires' recommended tire pressure for your specific vehicle. If you see significant signs of wear, replace your tires as soon as possible.
Belts and hoses: Have your car's belts and hoses checked for any signs of wear, cracks or leaks. Older vehicles may require more frequent maintenance and replacement of these components since rubber weakens with age and repeated exposure to heat.
Brakes: It's always important to know that your brakes are in good working condition before getting behind the wheel, but even more so before embarking on a long drive. Brakes that aren't operating properly could cause longer stopping, reduced braking power and brake failure which can lead to accidents and injuries. Have your brakes inspected thoroughly to make certain you can safely stop your vehicle during your journey.
Battery: Check your battery to make sure it's in proper working order. A battery that is slow to start or has difficulty holding a charge can quickly become dead, leaving you stranded on the side of the road, requiring a tow and becoming a costly inconvenience.
Filters: The air cabin filter of your car is responsible for filtering out pollutants such as dust, pollen and exhaust. It is important to keep the filter of your car's heating and cooling system clean because a dirty filter reduces the effectiveness of the HVAC system, forcing the vehicle's heating and cooling system to work harder than necessary, leading to increased fuel consumption and potentially costly repairs.
Roadside emergency kit: No matter how ready your vehicle may be for the long journey, it's best to be prepared for any type of road emergency, and having a roadside emergency kit can prove invaluable in helping you handle an unexpected situation.
"An emergency kit is essential for every vehicle and can help in the case of a breakdown or accident," Quinn said. "Carry one in your vehicle at all times, but even more so when going on a road trip."
An auto emergency kit should include road flares, jumper cables, a quart of motor oil, a gallon of coolant, first-aid kit, blankets, drinkable water, flashlight and basic tools like a screwdriver, pliers, an adjustable wrench, a spare tire, jack and lug nut wrench and nonperishable food.
Regular maintenance appointments: Before and after your road trip, make sure you keep up with your car's maintenance appointments. Routine maintenance means fewer major repairs in the future.
Regardless of the type of car you drive, be on the lookout for any warning signs so you can address issues before they become serious problems. Review your auto coverage with your insurance agent to know what's covered so that you can thoroughly enjoy your road trip.