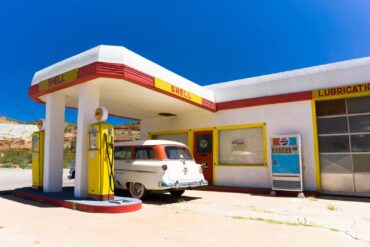 Unless you are one of those folks gliding around it an electric vehicle, you will be making a stop at a gas station of your choice any number of times in a month. It has become a part of everyone's routine and those machines have developed in sophistication to the point where they can drain your bank account while simultaneously filling you thank. That was not always the case — as we take a look back.
It was tough sledding for the early automotive folks who were just developing a taste for mechanized travel in the late 1800s. There were no gas stations so you had to stop by a pharmacy, hardware or grocery store to get your container filled.
It was around 1885 when a fellow named Bowser invented the first kerosene pump. To this day, fueling and oiling equipment for boats, airplanes and automobiles is often referred to as Bowsers.

Purpose-built gas stations did not begin to appear until 1905, when St. Louis claimed the very first. In 1907, Seattle opened a station near what is now Pier 32 and in 1913, Pittsburgh opened a full-service gas station. All these folks claim to have established the very first gas station and since there are no stripes on my shirt, I will not make that determination.
Automotive production in the United States rose from 4,000 cars in 1900 to 25,000 just five years later. It is easy to see how this dramatic increase in production led to the proliferation of gas and service stations all across the county.
Petroliana is the term used to refer to the collecting of articles relating to the gas and oil industry. Often, this hobby is closely related to the collector car hobby. It has quite a following and many businesses exist solely to supply restoration parts and early gas station accessories. Watch an episode of "Pickers" and take note of what the scarcity of these items has done to the prices.
Collectable gas pumps fall into four basic categories: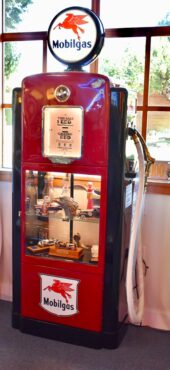 Curbside pumps — As the name implies, these were located on the curb, and when you were fueling your automobile, the traffic behind you stopped. You paid for your gas by the number of turns you made on the pump handle since metering devices were not incorporated yet.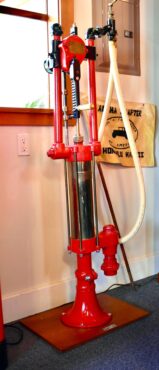 Visible pumps — These were known for their large glass cylinders, and fuel was pumped into the glass. There were measuring indicators inside the glass that showed how much gasoline filled the cylinder. Once you filled the cylinder, gravity took over and you could note the amount of gasoline needed to fill the automobile.
Clock-face pumps — They got their name from the large, clock-like indicator on the pump. The hands indicated the amount of fuel that had been dispensed.
Computer pumps —Around 1934, a mechanical computer was added to the gas pump. The proprietor could mechanically change the amount charged per gallon and the computer could take that setting and multiply it by the number of gallons delivered by the pump. It was an amazing and complex piece of mechanical machinery that was produced until 1980.
Today's collectors and restorers have taken restoration and elevated it to a form of art. You can find restored pumps in business lobbies, man caves, garages and just about anywhere someone wishes to create a high-impact statement. As you can see, we have come a long way.