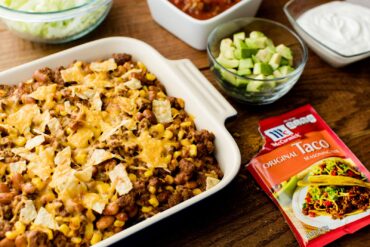 Whether it's shuttling the little ones to their afterschool activities or helping older students cram for their exams, families get super busy when the kids are in school. But that doesn't mean you can't regularly sit down together for weeknight dinners.
"Parent-chefs can effortlessly turn up the flavor by relying on single-use spice packets. They take the guesswork out of creating the perfect combination of seasonings and can make whipping up weeknight dinners so much easier," says Glen Schutzman, vice president of marketing, Convenient Meals, McCormick.
To help make the school year a little bit easier and a little more delicious, McCormick, a global leader in flavor, is sharing its recipe for Taco Casserole, which can be prepared in just 30 minutes with seven simple ingredients. A great way to switch up your taco night, this family-pleasing dish, which has the potential to become a mainstay in your recipe repertoire, incorporates McCormick Original Taco Seasoning Mix. Adding a vibrant, Southwest kick to any dish, use this classic seasoning mix to spice up soups, chilis, casseroles, fajitas, dips, nachos and of course, tacos.
Don't let the hectic back-to-school season overwhelm you. With simple ingredients, you can put together tasty dinners that will win over family members of all ages.
---
Taco Casserole
Makes 6 servings
Ingredients:
1 1/2 pounds ground beef or ground turkey
1 package McCormick Original Taco Seasoning Mix
1 can (16 ounces) pinto beans, drained and rinsed
1 can (15 ounces) tomato sauce
1 can (11 ounces) whole kernel corn or Mexican-style corn, drained
1 cup shredded cheddar cheese
1 cup coarsely crushed tortilla chips
Instructions:
Preheat oven to 400ºF. Brown meat in large skillet on medium-high heat. Drain fat.
Stir in seasoning mix, beans, tomato sauce and corn. Bring to boil. Reduce heat to low; simmer 5 minutes. Spoon into 2-quart baking dish. Sprinkle with cheese and tortilla chips.
Bake 5 to 10 minutes or until cheese is melted. Serve with assorted toppings, such as sour cream, cilantro and avocado, if desired.
To shop spices and seasoning mixes, and for additional recipes and weeknight inspiration, visit mccormick.com/recipes.