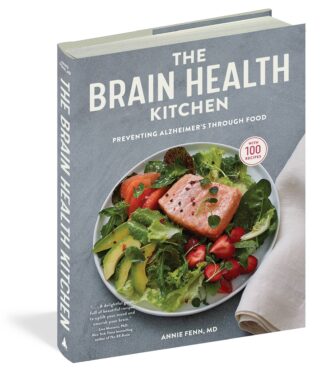 The foods we choose to eat (or not) sit at the core of the Alzheimer's epidemic, but they are also at the heart of the solution, according to Annie Fenn, MD, a food-loving physician who turned into a chef. Fenn presents a new way to think about brain health with her new cookbook, "The Brain Health Kitchen." Fenn believes that brain health begins in the kitchen, and shows home cooks how making the right choices about the foods they select and cook — and how they eat them — can keep their brains younger, sharper, more vibrant and much less prone to dementia.
"Food choices are at the heart of the solution to Alzheimer's and dementia," Fenn says. "The earlier you begin eating with brain health in mind, the better. In doing so, you will cultivate a brain that is resilient to age-related cognitive decline from all causes, especially Alzheimer's."
Scientific studies have shown that diets high in foods with powerful neuroprotective properties lower their risk of Alzheimer's and dementia, according to Fenn. One such diet, called MIND, spins off the Mediterranean and DASH diets and emphasizes the foods that are most neuroprotective — berries, leafy greens, vegetables, fish and seafood, whole grains, nuts and seeds, poultry, beans and legumes, olive oil and red wine.
The results of a study of the MIND diet showed that when participants adhered to the MIND guidelines most closely, there were 53% fewer cases of Alzheimer's after just four and a half years. Even participants who followed the diet less rigorously had a risk reduction of 35%. In addition, participants who followed the diet most closely over time showed improvement in cognitive function.
Fenn's recipes are based on the MIND and Mediterranean diet studies, along with several other sources. Shifting to and sticking with a brain healthy diet is your first and best line of defense against the heartbreaking diseases of Alzheimer's and dementia, according to Fenn. And it works for everyone — omnivores, pescatarians, vegetarians and vegans and the gluten-intolerant.
"Food is your most powerful tool to resist cognitive decline with age," Fenn says. "Brain health eating is about making food choices that will have staying power for the rest of your life."
Try this delicious, brain-healthy recipe from Fenn's book.
---
Lemongrass Shrimp and Rice Noodle Salad
Serves 4
Recipe and photo reprinted with permission from "The Brain Health Kitchen Cookbook" by Annie Fenn
Photo by Alexandra Grablewski, Artisan/2023
Think of this fresh and crunchy salad as a cross between shrimp pad Thai and a spicy noodle salad. Although I love traditional pad Thai, with its stir-fried noodles and tangy tamarind sauce, at home I am more likely to go light on the noodles and heavy on the vegetables. This dish is especially good with Forbidden Rice noodles, a purple-black variety made from anthocyanin- rich Forbidden Rice (a.k.a. black). If you can't find it, use regular rice or brown rice noodles instead.
There's really no substitute for the intense, citronella-like aroma and flavor that fresh lemongrass adds to the shrimp. In a pinch, you can get by using lemongrass paste in a tube (use 2 tablespoons paste for 3 tablespoons freshly chopped). The good news is, most grocery stores now carry fresh lemongrass stalks. Look for them in the produce section next to the ginger.
Ingredients:
1/4 cup (60 ml) fresh lime juice
1/4 cup (60 ml) rice vinegar
11/2 to 2 teaspoons sambal oelek (Indonesian fresh chili paste)
1/2 pound (225 g) Forbidden Rice noodles (or thin, pad Thai-tyle rice noodles)
1 tablespoon avocado oil
1 large shallot (5 ounces/140 g), finely chopped (about 1/2 cup)
3 tablespoons finely chopped lemongrass, pale, tender centers only
One 1-inch (2.5 cm) piece fresh ginger, grated (about 1 tablespoon)
3 large garlic cloves, chopped (about 1 tablespoon)
1 pound (455 g) medium shrimp (about 30), peeled and deveined (see Tip)
3 medium carrots (12 ounces/340 g), shaved into ribbons with a vegetable peeler
2 loosely packed cups (80 g) tender lettuces (butter, bibb or baby romaine), torn into bite-size pieces
2 cups (60 g) chopped fresh mixed herbs (mint, basil and cilantro leaves), plus more for garnish
1/2 cup (70 g) raw peanuts, roughly chopped
Lime wedges
Instructions:
Stir together the lime juice, vinegar and 11/2 teaspoons of the sambal oelek (more if you prefer a spicier dish) in a large bowl. Set aside, reserving 2 tablespoons of the dressing to drizzle on the finished dish.
Bring a large pot of water to a boil. Add the noodles and cook, stirring occasionally until tender, 5 to 6 minutes. (Or follow the package directions, as some rice noodles will cook by soaking in hot water.) Drain well, add to the bowl with the dressing, toss and set aside.
Heat the oil in a large nonstick skillet over medium heat. Add the shallot, lemongrass and ginger and cook until the shallot is translucent, 5 to 7 minutes. Add the garlic and the shrimp, stir to coat with the lemongrass mixture and cook until the shrimp are just pink on both sides, about 4 minutes total. Turn off the heat and set aside.
Add the carrots, lettuce and herbs to the bowl of noodles. Toss well and divide among shallow bowls. Top with the shrimp, then sprinkle with the peanuts and more herbs. Just before serving, drizzle with the reserved dressing. Serve warm, at room temperature or chilled, with lime wedges alongside.
Tip: When purchasing shrimp, look for American wild-caught shrimp. Shrimp imported from other countries is more likely to be contaminated with environmental toxins, fraudulently labeled and the result of unethical labor practices. If purchasing frozen shrimp at the grocery store, look for peeled, tail-on shrimp for the best product.
Cleaning the shrimp of its innards takes only a minute and ensures your shrimp will be safe to eat. Just take a sharp knife along the back and under the belly and remove any dark-colored debris. Or ask the fishmonger at the grocery store to clean them for you. As for canned shrimp: Don't buy it. Most is imported from countries with questionable farming practices and heavy use of antibiotics.
Science Bite: Astaxanthin in Shrimp
Shrimp is rich in the antioxidant astaxanthin, a member of the carotenoid family of nutrients. Animal studies have documented that astaxanthin exerts impressive neuroprotective effects on cognition and memory. Its antioxidant power is active right where the brain is most vulnerable to amyloid deposition — in the hippocampus. Scientists hope to prove that getting enough astaxanthin in the diet has the same neuroprotective properties in human brains, and it is being evaluated as a possible therapeutic agent for Alzheimer's and Parkinson's diseases. Besides shrimp, crab and scallops are also rich in astaxanthin.