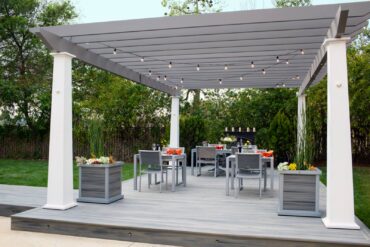 The days may be getting shorter, but that doesn't mean you have to stop enjoying your outdoor living space. Here are some easy ways to flip your deck for fall, courtesy of the outdoor living experts at Trex.
1. Ignite the light.
The setting sun doesn't have to darken your outdoor fun. Lighting has the ability to completely change the look and feel of an outdoor space without breaking the bank. Candles, tiki torches, string lights and fire features add warmth and ambiance to an outdoor space and can help to extend the time you are able to spend outdoors – both in hours and weeks. For even greater impact, deck lighting can take your outdoor space to a whole new level, enhancing style and sophistication as well as safety.
2. Pop for a pergola.
Pergolas not only create a beautiful focal point for your backyard and an inviting place to host gatherings, but they also provide shade from the sun and coverage from the often unpredictable fall weather. Consider integrating a waterproof, retractable canopy into the structure for protection from rain or snow. Mounting curtains can also provide protection from wind and add an extra flair to your space.
3. Amp up the ambiance.
The allure of an outdoor fire is hard to rival or resist. Add warmth and charm to your outdoor space with a firepit table. This practical heating solution creates a cozy atmosphere – even when the weather is cold and gloomy. Wall-mounted deck heaters, standing patio heaters or even portable space heaters can also help to keep you comfortable on your deck.
4. Liven with lattice.
For a clever – and easy – design trick that adds both personal style and functionality to any outdoor space, consider incorporating lattice. Perfect for enhancing privacy or hiding unsightly views such as garbage cans and lawn equipment, lattice is durable, lightweight and easy to install. The Trex Deck Lattice collection, for example, offers exclusive styles ranging from traditional to art deco in panels that can be applied to structures such as arbors, trellises and gazebos, or used as wainscoting or deck skirting.
5. Raise your railing game.
Railing is one of the most visible elements of a deck and has tremendous impact on a deck's aesthetic and curb appeal. In recent years, the industry has seen an influx of statement-making railing styles inspired by contemporary architecture and commercial design. Give your outdoor space an instant facelift by replacing your old wood deck railing with sleek, sophisticated aluminum railing.
6. Resurface with composite.
Resurfacing a deck is a doable DIY project that can be completed in a weekend or two with just a little know-how and the help of a few friends. Instead of tearing your old deck down to the ground, simply replace the walking surfaces with high-performance composite decking and start enjoying a low-maintenance lifestyle. Designed for maximum durability and minimal maintenance, wood-alternative decking, like Trex®, resists fading, staining, scratching and mold, and never needs to be sanded, stained or refinished like wood. Just an occasional soap-and-water cleaning is all it takes to retain a like-new appearance, so you can spend more time enjoying your outdoor space than maintaining it.
For more outdoor living ideas and inspiration, visit Trex.com.