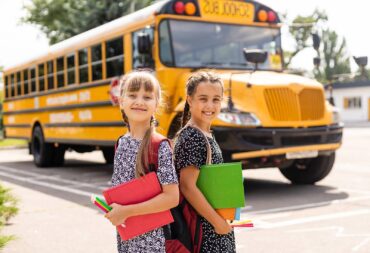 It feels like summer has just started, and yet here we at the start of a new school year. This time of year tends to bring about a mix of emotions. There is excitement over new getting new clothes and school supplies and seeing friends. There is also likely some anxiety — and maybe some stress over balancing schedules and finances for all things 'back to school. There is possibly even a hint of relief from weary parents who are running out of ways to entertain children who have seemingly endless energy.
The laissez faire, more permissive tendencies of summer will soon give way to the structured routines of the fall. While freedom has its benefits, so does routine. In fact, children (and adults) thrive on it!
Routine helps build confidence and maintain a sense of safety and security. Children (whether they will admit it or not) benefit in a variety of ways from having a schedule that is predictable and familiar. It can reduce stress and anxiety while helping enhance independence and self-worth. Routine also gives children a sense of control, especially when they are given developmentally appropriate tasks and expectations. Routines create an environment that will cultivate emotional, physical, and mental wellness. But where do we begin?
Involve the Kids
Involve children in the back-to-school activities. Children love to have a sense of control and to be able to express their input. There are very few things kids have control over in their lives and the more opportunities we give them to take the lead, the more likely they are to care about the task at hand and gain confidence, independence and self-esteem in the process.
If you're still finishing up back-to-school shopping, include them in any budgeting talks. Make it a challenge to find the best deals.
Have them create their own weekday morning or school lunch menu so they can take part in choosing what they would like to eat.
As you ease into the school year, create a calendar together to help keep track of school work and extracurricular activities. They can design one with a program like Canva and customize the design, theme and layout.
Open Up Conversation
Kids might not be quite as aware of how they are feeling about having to go back to school after a leisurely summer. Open up conversations about the thoughts and feelings they are having about the start of another school year.
Are they excited? Nervous? Stressed? Indifferent? What are they looking forward to? What are they not looking forward to? Do they have any goals in mind or any new experiences they would like to have? These conversations can be had pretty much anywhere — in the car, around the dinner table, over ice cream, etc. If this is a particularly big year for your child (such as kindergarten, sixth grade, ninth grade, senior year, etc.), ask them how they feel about this milestone and consider sharing stories or pictures of your own from that time of your life.
Create New Traditions
So often we find ourselves getting stuck in the negatives. The new school year means early bed times, early mornings, rushed breakfasts, homework and busy schedules. But is also means more opportunities to create relationships, explore interests and engage in self-discovery.
Busy schedules can mean less time for family, and the stressful aspects of the school year can create tension. Consider building in new traditions to help reconnect as a family throughout each week and bring moments of joy and things to look forward to.
I am sure many of us with younger kids are familiar with the excitement of the prize box. Every Friday, my elementary schooler loves to turn in their "seagull feathers" to purchase something from the prize box. How can you emulate that same excitement as a family? This can be anything that speaks to you and your children, but some examples might include:
Friday pizza night
Weekly afterschool ice cream dates
Full control for kids of the radio on the car rides to and from school so they can play being a "DJ"
Uno or some other game over dinner one night a week
Monday morning donuts
Other weekly and monthly treats
Any time of transition can be a challenge. But with a little planning and a positive spin, we can make them a little more easy to navigate. If you or your children are having a particularly difficult time leading up to the start of the new school year, consider reaching out to the guidance counselors, school psychologists or other mental health professionals for advice and support.