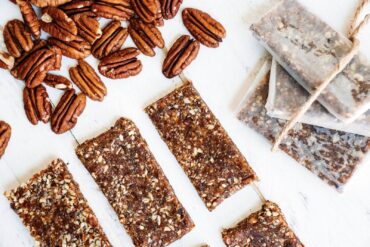 Back-to-school season means many families are busier than ever, leaving less time to plan weeknight meals. While a new school year brings plenty of exciting moments, it also adds up to early mornings, long days and late evenings, making it tough to keep nutrition top-of-mind.
With new routines and jam-packed calendars, quick and easy recipes can be the solutions you need. Swapping out complicated dishes for simple dinners and make-ahead snacks allows you to make your loved ones' health a priority while also managing hectic schedules.
Pecans are a nutrition powerhouse that are great for incorporate into after-school snacks. They're nutrient-dense and a versatile ingredient with a wide range of flavor profiles. Consider them as an addition to energizing snacks like these Superfood Pecan Energy Bars. They're simple and nutritious, making them an ideal after-school snack and on-the-go solution between activities.
For more back-to-school recipe inspiration, visit EatPecans.com.
---
Superfood Pecan Energy Bars
Cook time: 40 minutes
Servings: 14
Ingredients:
15 Medjool dates (9 ounces)
1 cup pecan pieces
1/2 cup gluten-free oats
1 tablespoon chia seeds
1 teaspoon vanilla extract
1/2 teaspoon cinnamon
1/4 teaspoon kosher salt
Instructions:
Preheat oven to 200ºF.
In a food processor, process or pulse dates until chopped and rough texture forms. Add pecan pieces, oats, chia seeds, vanilla extract, cinnamon and kosher salt; process about 1 minute until crumbly dough forms.
Line a baking sheet or jelly roll pan with parchment paper. Dump dough into center of parchment paper and use rolling pin to roll into 6-by-10.5-inch rectangle. Cut dough into 14 bars about 1.5-by-3 inches or into desired shapes.
Bake bars 30 minutes. Cool to room temperature, then refrigerate in sealed container between sheets of wax paper.
To package for on-the-go snacking, cut 4-by-6-inch rectangles of wax paper, wrap around bars and secure with tape.