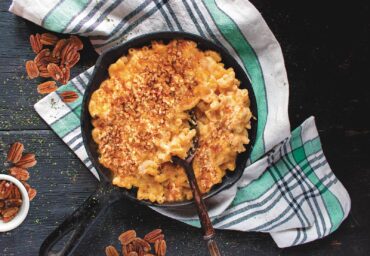 To help make simple yet tasty additions to your regular menu, look to a flavor favorite and nutrition powerhouse like pecans. They're the ideal nut to keep on hand to incorporate into favorite meals and after-school snacks.
Taste is just the beginning when it comes to pecans. Their nutritious punch provides a unique mix of health-promoting nutrients. Plus, they're a versatile ingredient that can shine in a wide range of flavor profiles from sweet or spicy to salty, smoky and savory.
When the whole family comes home after a long day of school, work, games and social commitments, pecans can add a delightful crunch to air-fried favorites like chicken tenders or childhood classics like Mac and Cheese with Pecan Breadcrumbs.
For more back-to-school recipe inspiration, visit EatPecans.com.
---
Mac and Cheese with Pecan Breadcrumbs
Cook time: 50 minutes
Servings: 6
Ingredients:
8 ounces cavatappi pasta
1 teaspoon salt, plus additional for salting pasta water, to taste
1 tablespoon butter
1 block (8 ounces) cheddar cheese
1/2 cup raw pecan pieces
15 ounces part-skim ricotta cheese
4 tablespoons sour cream
1/4 teaspoon ground pepper
1 large egg, lightly beaten
Instructions:
Preheat oven to 375ºF.
Cook cavatappi in salted boiling water. Drain, reserving 1/2 cup pasta cooking water. Return pasta to pot and stir in butter.
Using box grater, shred cheddar cheese.
Using food processor, combine 1/4 cup shredded cheddar cheese with pecans. Process to coarse breadcrumb consistency.
Add remaining cheddar cheese, ricotta, sour cream, 1 teaspoon salt and pepper to warm pasta. Stir until thoroughly combined. Add egg; stir. Add 2-4 tablespoons reserved pasta water to loosen mixture; stir until smooth.
Pour into buttered 9-inch square or round casserole dish and top evenly with pecan topping.
Bake 30 minutes.
Substitutions: Use preshredded cheese in place of cheddar cheese block. Use pasta of choice in place of cavatappi.
Source: American Pecan Promotion Board