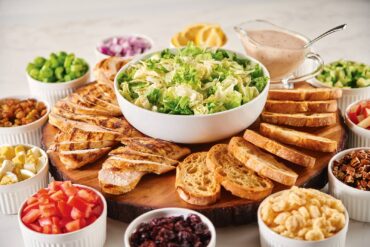 Summer celebrations come in many forms — backyard games, fun at the pool, time with family — but perhaps a favorite is enjoying fresh, delicious foods that are easy to prepare. Put a twist on the classic Caesar salad this summer with crunchy textures and energizing flavors to keep the excitement rolling all season long.
Capitalize on a food trend that's all the rage with this easy-to-assemble Chicken Caesar Salad Charcuterie Board for a unique way to share a meal. Sliced chicken provides that familiar taste of grilled summer fare combined with hard-cooked eggs, fruits, veggies, cheese and crostini.
At the heart of the dish is the Fresh Express Twisted Lemon Caesar Chopped Salad Kit, which provides a spin on traditional Caesar flavor by adding in bright notes of lemon. The kit features crisp iceberg lettuce, colorful and sweet dried cherries, crunchy Parmesan cheese crisps and lemon white wine Caesar dressing to bring a little sunshine to each bite.
A convenient, ideal bed for this salad charcuterie board, the kits can also be enjoyed as an easy summer salad on their own and are available in the refrigerated produce department at grocery stores.
Visit FreshExpress.com for more mealtime inspiration and to find salad kits near you.
---
Chicken Caesar Salad Charcuterie Board
Prep time: 25 minutes
Servings: 8
Ingredients:
3 packages (9.1 ounces each) Fresh Express Twisted Lemon Caesar Chopped Salad Kits
2 pounds sliced grilled chicken
16 slices crostini
1 cup chopped hard-cooked eggs
1 cup chopped celery
1 cup diced cucumber
1 cup chopped red onion
1 cup chopped apple
1 cup chopped tomato
1 cup shaved Romano cheese
1 cup chopped pecans
1 cup golden raisins
1 lemon, sliced
Instructions:
Place lettuce from salad kits in large bowl; place in center of large round cutting board or platter.
Arrange sliced chicken and crostini around bowl of lettuce.
Place salad dressings and toppings from salad kits in individual small bowls. Place eggs, celery, cucumber, red onion, apple, tomato, Romano cheese, pecans, raisins and lemon slices in individual small bowls.
Arrange bowls in circle around lettuce, chicken and crostini.