Each year, the Building Industry Association of Washington (BIAW) recognizes the state's most outstanding remodeling projects at its Excellence in Remodeling Awards, showcasing quality craftsmanship in a variety of categories and price ranges.
The BJC Group of Port Orchard won the award for Entire House $400,001 – $600,000. The project is a complete remodel for a Navy family moving from the East Coast to the Pacific Northwest. The BJC Group, a member of Kitsap Building Association, transformed an already beautiful three-story, 3,200-square-foot home on the Kitsap Peninsula into a gorgeous, nautical home-away-from-home.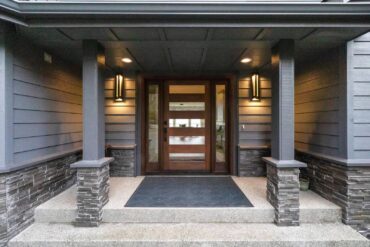 The home's main fireplace in the kitchen was downsized, surrounded in stone and fashioned in a new fireplace cover. BJC then installed a large fireplace in the living room, moving the focus of comfort from the kitchen to the living room. Next, BJC opened the kitchen entirely, expanding the small island and orientated it lengthwise, opening more counterspace as well as flow through the room.
Renovating the master bathroom involved expanding a bit into an adjacent room to allow for a large soaking tub, spacious shower, heated flooring, a double vanity in quartz and porcelain tile, and a large window with a beautiful view of the Puget Sound. This home enjoys a 210-degree view of the Cascade Mountain Range meeting the Sound, so BJC designed every room with generous windows to capture this beautiful view.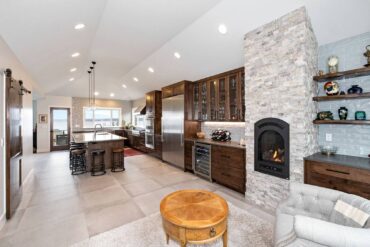 This remodel started at the beginning of the COVID-19 pandemic. Supply shortages across the globe meant ideas had to change and builders, designers and owners had to just go with the flow. Despite all this, the family loves their beautiful home with the comforts of travel and modernity of today.
The annual BIAW Excellence in Remodeling (EIR) Award competition celebrates Washington's best remodeling and design work by BIAW members statewide. This year, BIAW members from nine local homebuilder associations across the state submitted 52 entries in 20 different categories, ranging from the top kitchens and baths to additions, outdoor living and universal design.
Industry experts review and score each individual project based on aesthetics, special or unique design solutions, quality craftsmanship, appropriate building materials, budgetary considerations and the challenges the project's design requirements face. With their expertise, innovation and attention to detail, these projects meet and exceed the standards of excellence necessary to win a 2023 Excellence in Remodeling Award.