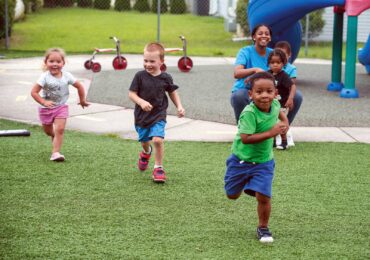 Everybody, no matter their age, can benefit from daily physical activity. According to the Centers for Disease Control and Prevention (CDC), young children should be physically active throughout the day for growth and development. Despite the common misconception that children are in perpetual motion, the CDC reminds caregivers to encourage children to be active when they play.
"Physical activity is important because it is critical in assisting with gross motor development and helps support development in other areas," said Khy Sline from KinderCare Learning Center's education team. "Children thrive when we give them the tools to use their bodies and muscles in new ways and make mind-body connections."
Consider these five activities to encourage children to get moving.
Blow bubbles. Appealing to children from infancy on up, seeing bubbles floating around can encourage babies to reach out and try to grab them, building arm strength and coordination. Toddlers and older children can run around the patio or lawn chasing bubbles and watching them pop.
Build a tunnel. Whether indoors or out, made from furniture covered with sheets or cardboard boxes, tunnels encourage children to move over, under, around and through, which helps them explore new ways of moving while also building coordination and balance.
Play hide and seek. As they dash around trying to find the perfect hiding spot, children build spatial awareness, their understanding of where their bodies are in relation to other people and objects.
Play red light, green light. This classic game helps children build coordination — connecting the verbal instruction with the physical movement — while also teaching them impulse control, an essential executive function skill. Be sure to get creative with instructions and add variations like tip-toeing, crawling, hopping and more.
Walk the line. Draw a line on the ground using chalk outdoors or painter's tape indoors and encourage your children to walk along the line. This activity helps children improve balance and coordination. Get creative and add in a challenge by drawing a wavy or zig-zag line. Once your children get the hang of following the line, ask them to think of other ways to travel along that space, such as hopping on one foot or skipping.
For more ideas to encourage physical activity among children, visit kindercare.com.