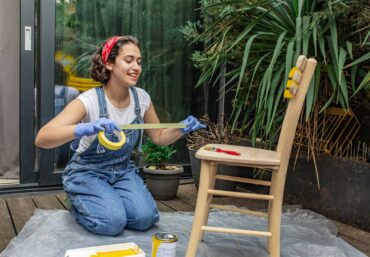 If you're searching for new ways to make a positive impact on the planet, have you considered how you buy furniture? By opting for preowned or used furniture, you can save money, plus it's an excellent way to reduce waste and contribute to a more sustainable future.
Why shop for preowned furniture?
Purchasing new furniture can have a significant environmental impact, with production contributing to deforestation, greenhouse gas emissions and waste. Furniture accounts for 9.8 million tons of waste in landfills annually, according to the Environmental Protection Agency. By choosing to buy preowned, you can help divert usable items from ending up in a landfill and prolong the lifespan of resources that have already been extracted from the earth.
But buying used isn't just good for the planet; it can also be good for your wallet. Second-hand furniture is often much more affordable than buying new, so you can save money while still getting quality pieces for your home. Plus, this can give you access to unique and vintage finds you can't find elsewhere, and it can make your home feel stylish and unique.
Tips for shopping preowned furniture
It can feel overwhelming if you're new to shopping for pre-owned furniture. Here are a few tips to get you started:
Start with what you have: The most sustainable piece of furniture is the one you already own. So, before browsing for new furniture, take stock of what you already have. Can you repurpose or upcycle an item to give it new life? Sometimes a fresh coat of paint, new upholstery or modern hardware is all you need to completely transform a piece of furniture.
Determine your needs: If you still need new furniture, consider what kind you're looking for before shopping. Consider the size and style of the piece, as well as any specific features or details you're looking for. What is your budget? Knowing what you want will help you refine your search and make the process less daunting.
Shop locally: If you still need new furniture, consider shopping locally, which reduces transportation emissions and supports small businesses. Look for resale stores in your community or browse online marketplaces, like OfferUp, that allow you to search for items in your area. You can download the mobile app from the Apple App Store or the Google Play Store — or visit OfferUp.com.
Consider the materials: When shopping for preowned furniture, consider how it's made. Look for items constructed from sustainably sourced wood, bamboo or other renewable materials. Avoid items made from materials that are harmful to the environment, such as plastics or synthetics. Antique and vintage items tend to be of higher quality, will usually last longer and can add unique character to your home.
Don't discount the imperfect: When shopping second-hand, it's important to carefully inspect items before you buy them. Look for any signs of wear and tear, such as scratches, dents or stains. Make sure the piece is sturdy and functional. However, minor imperfections can often be fixed with a little bit of DIY work or by hiring a professional to complete repairs. Sometimes by simply cleaning an item thoroughly, you can bring it back to life.
Stay open to negotiation: Many resale stores and online marketplaces allow for negotiation on price. Don't be afraid to make an offer that fits within your budget. Ask about the piece's backstory — where it was originally purchased and how long it was owned — so you can be sure you're getting a fair price.
Get creative: One of the best things about buying preowned furniture is the opportunity to get creative and personalize your space. You can paint or refinish a piece to give it new life or mix and match styles for a unique look. Don't be afraid to experiment and have fun with your unique finds.
Choosing to shop for preowned furniture instead of new is a step toward reducing our environmental impact and creating a more sustainable future. With a little bit of effort and creativity, you can find beautiful and unique pieces that will give your home a fresh new look while also protecting the planet.