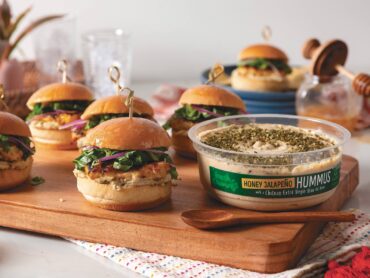 Fresh, mouthwatering foods hot off the grill are a sure sign of summer fun. Hosting sunny get-togethers this year can be made easy when you show off your grilling skills with a simple, nutritious and flavorful recipe.
These Chicken Shawarma Sliders are a delicious example of how to grill healthy summer meals without forgoing favorite flavors. They're part of a curated 12-recipe collection of healthy, balanced dishes from the snacking experts at family-owned Fresh Cravings, known for its chilled salsas, hummus and other dips, which teamed up with eMeals, America's leading provider of meal plans.
"These sliders are a fantastic — and healthy — option for your next gathering," said eMeals senior nutrition writer and editor Rachel West, RD. "The marinade uses a mix of pantry-friendly dried herbs and fresh garlic to give the lean grilled chicken breast some oomph. The lettuce and red onion add cool crispness and crunch to the sandwiches while Fresh Cravings' creamy, flavor-packed hummus gets some nutritional bonus points by providing a dose of protein and fiber."
Find the entire recipe collection by visiting emeals.com/campaign/Fresh-Cravings-Healthy-Eats.
---
Chicken Shawarma Sliders
Recipe courtesy of eMeals Registered Dietitian Rachel West
Prep time: 25 minutes
Cook time: 10 minutes
Ingredients:
2 pounds boneless, skinless chicken breasts
3 tablespoons olive oil
4 cloves garlic, minced
1/2 tablespoon smoked paprika
1/2 tablespoon ground cumin
1/2 tablespoon ground coriander
1 teaspoon salt
1/2 teaspoon cayenne pepper
1 package (12) slider buns
1 container (17 ounces) Fresh Cravings Honey Jalapeno Hummus
1 package (8 ounces) shredded lettuce
1/2 small red onion, sliced
Instructions:
In zip-top plastic bag, use meat mallet or heel of hand to pound chicken to even thickness. Cut into 2-inch pieces and place in large bowl. Add oil, garlic, paprika, cumin, coriander, salt and cayenne; toss.
Cover chicken and chill 8 hours, or up to 2 days.
Preheat grill or grill pan to medium-high heat. Grill chicken 4-5 minutes per side, or until done.
Serve chicken on buns with hummus, lettuce and onion.