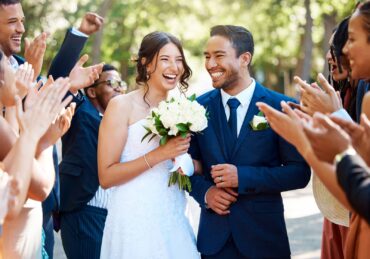 February is the month of love and one of the most popular times of year for couples to get engaged. According to a recent study, 36% of respondents said Valentine's Day is the most romantic day to propose. If you're about to get married or just walked down the aisle, here are five things to do to ensure your financial health.
1. Determine how you will handle finances.
They say money can't buy love and happiness, but talking about it in a marriage or even beforehand goes a long way. You'll want to discuss whether you'll have a joint bank account and credit cards, separate accounts or a combination of the two. It's a personal decision, so consider the pros and cons.
It's also a good idea to know the roles you will play. For example, will you or your partner pay the day-to-day bills? The other person may want to manage the monthly mortgage and auto expenses, or even the long-term investments and retirement funds. If you need help coming up with a plan, you may want to seek the advice of a financial counselor.
2. Get life insurance.
You may not realize that February was also Insure Your Love Month, a time to think about protecting your loved ones if something unfortunate should happen.
"If you have people who depend on you — including your new spouse — chances are you need life insurance," said Lou Colaizzo, senior vice president at Erie Family Life. "While it's hard to think about the possibility of not being there for a loved one, it's so important to plan for."
Colaizzo added that some people may hesitate to seek out life insurance because they don't want to go through the trouble of getting a medical exam, but that's not always necessary. For example, Erie Insurance has a policy called ERIExpress Life, which may be able to provide protection with a simple application process and no physical medical exam. Colaizzo recommends people consult with their insurance agent to find the right life insurance policy and coverage amount that's best for them.
3. Protect your bling.
Chances are, you spent a lot of time and money picking out rings you'll love and wear every day. Unfortunately, burglaries are more common than you may think. According to the FBI, there were more than 1.1 million burglaries in 2019. Protect your wedding jewelry and any other expensive jewelry by adding these items to your homeowners or renters policy. It is advisable to have photos and documentation of the value of the ring and other valuable jewelry in the event of a theft or a loss.
4. Update your car insurance.
Notify your agent to make sure you're both covered to drive each other's cars. You may also be eligible for savings, such as a multicar discount or bundling your car insurance with homeowners or life insurance. Additionally, some insurance companies offer a lower rate for married couples.
5. Make updates to your records if you change your last name.
It's a big decision and takes a lot of work if one of you decides to change the last name after marriage. It's important to be patient and diligent, as the entire process may take several months. Remember to update all the appropriate documents and accounts, including a new Social Security card, driver's license, passport, bank accounts and credit cards, among other considerations. Additionally, notify your employer for payroll and health insurance coverage updates.
Getting married is an exciting, big life event. While you and your partner start your new life together, have an open conversation about financial considerations and double check to make sure you're covered to protect the life you're building.