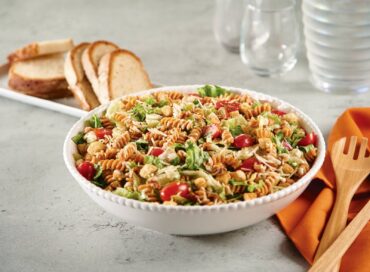 Starting the new year with fresh intentions, whether you're trying to reset for 2023 or simply add more greens to your meals, begins with delicious, nutritious and easy recipes.
With more than 100 varieties of fresh, healthy and convenient ready-to-eat salads, Fresh Express provides plenty of inspiration, information and incentives to help you achieve your goals. For example, this Pesto Pasta Salad features red lentil rotini and Twisted Pesto Caesar Chopped Salad Kits loaded with a fresh blend of crisp iceberg and green leaf lettuces, crunchy garlic brioche croutons, Parmesan cheese and creamy pesto dressing. Add fresh grape tomatoes and toasted walnuts for a simple side or easy lunch that can be made ahead of time.
Discover more fresh recipe ideas at FreshExpress.com.
---
Pesto Pasta Salad
Prep time: 15 minutes
Cook time: 10 minutes
Servings: 6
Ingredients:
1 quart cooked red lentil rotini
2 packages (9 1/2 ounces each) Fresh Express Twisted Pesto Caesar Chopped Salad Kits
1/2 teaspoon salt
1/4 teaspoon black pepper
1 cup grape tomatoes, halved
1/2 cup walnuts, toasted
Instructions:
Prepare red lentil rotini according to package directions; cool 15 minutes.
In bowl, mix rotini and one dressing packet from salad kits. Sprinkle with salt and pepper; mix well. Refrigerate, covered, 30 minutes or until rotini is cold.
In large bowl, mix lettuce from both salad kits with remaining salad dressing package. Add rotini and tomatoes; toss to combine. Sprinkle with garlic brioche croutons and shredded Parmesan cheese from salad kits and walnuts.
Substitution: Traditional rotini can be used for red lentil rotini.