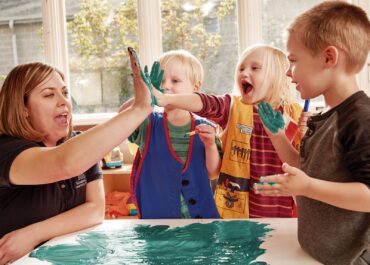 A new year is a perfect time to consider the habits you want to keep and the ones you'd like to develop. One resolution to consider is helping your children develop a growth mindset this year.
"We know one of the greatest boosts to parents' confidence over the past year came from knowing their children's whole selves are being nurtured, and we want to see that trend continue," said Carter Peters from KinderCare Learning Center's education team. "A growth mindset helps children try new things despite fear of failure. It's the kind of thinking that allows inventors and creative thinkers to get excited about trying something new and ensures they have the cognitive flexibility and problem-solving skills to work through hurdles."
Adults can often easily spot when children are engaged in creative thinking and prideful of their work, but that confidence may be lost as failures turn into insecurities. By nurturing a growth mindset and showing children they can learn and develop new skills in any area, it better sets them up for long-term success.
Consider these three tips to help children build a growth mindset:
Praise Effort
It's easy to fall into the habit of praising successes. However, praising effort encourages children to try new things without the fear of failing. It also teaches them personal growth and achievement are possible, even if their overall effort wasn't a success.
"Young children often get excited to try something new," Peters said. "By praising effort and showing children they'll still be loved and valued despite the outcome, you can reframe how they approach challenges and teach them that difficult doesn't mean impossible."
Encourage the Process
People often withhold praise until there's a result, which leads children to hurriedly scribble a picture to hold up for a "good job" instead of taking time to focus on their efforts. When children know adults will encourage them during the process, instead of only upon the achievement, they're more likely to try new things or master a new skill.
For example, try providing encouragement such as, "I can see you're focused on drawing that tree. It looks so lifelike because you're putting so much thought into what you're doing." Once their project is finished, continue the encouragement by hanging up their artwork or school projects in a prominent place.
Model a Growth Mindset
You can model a growth mindset for children by narrating your actions when you are facing a challenge: "I am having a difficult time putting this shelf together, but it's OK. I'll take a break then read the instructions again." Remove negative words from your vocabulary, such as "I can't" or "I'm stupid." Even when you are joking, children may not be able to tell the difference.
You can also ask your children to join you in problem-solving. Take time to hear their ideas and try them even if you think they won't work. This not only supports the development of their growth mindset, but the quality time and encouragement reinforces their sense of self-worth and builds confidence.
For more tips to help children develop a growth mindset, visit kindercare.com.