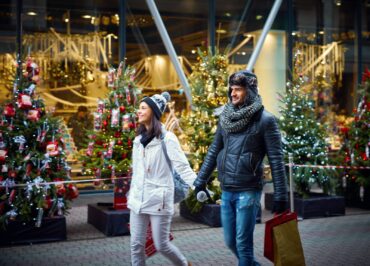 The holiday shopping season is here, and that means it's now crunch time for gift giving. It's important to remember the true reason for the holidays, of course, but gift giving is a part of the tradition. It allows us to celebrate with each other, have fun and show how much we care by giving our loved one's thoughtful gifts. Gift giving brings out the magic of the holidays, and we all can be reminded of the holiday spirit as we witness the happiness in a child's eye or grandmother's smile as they open their gifts.
Whether you have a small group of people or an extremely large family, it's important to stay organized with the shopping process so you are all set and ready to go when the holiday officially arrives! In my experience as the professional organizer and brand ambassador of Modular Closets (DIY customizable closet units that organize any space in your home), I have discovered these helpful tips for an organized and stress-free holiday shopping experience:
1. Write a List of Ideas and Check It Twice.
Lists are the best way to stay organized during the holiday season. This may sound like a simple task, but it will help you tremendously. So grab a pen and paper, write down every person's name and list out a bunch of ideas for what gifts you might get them. This gets your brain flowing with ideas.
Trust me, the hardest part is figuring out what to get people, so if you write a list of possible options, you are off to a great start. Lists will always be helpful because they simplify your thoughts so you can get more accomplished.
Even better, I recommend creating your gift list using Google Sheets or Google Docs rather than keeping it in a Word document or writing it down on a piece of paper. This is because you can easily download the Google spreadsheet or Google document app on your smartphone and update your list while on the go. If you see a great gift idea in a store window while walking to work, get a suggestion from a colleague or have a random burst of clarity on which present to get someone, you can then easily adjust your shopping list on your phone.
2. Know Your Budget.
Giving gifts can get out of hand when it comes to your wallet, so don't feel pressured to give more than you can. Set a strict budget for the holiday shopping season and stick to it. Trust me, when your credit card statement comes in January, you will be glad you did.
Set a definitive dollar amount to stay under, otherwise you will have no threshold you know you cannot surpass (which leads to overspending). To stay under budget, search for online promo codes and special discounts for social media followers that you can use when buying gifts.
3. Set Your Online Shopping Deadline Now.
The last thing you will want to do is rush to the mall several hours before a holiday soiree to try to find a gift for the party host. I strongly suggest ordering anything online by the first week of December. Some stores guarantee holiday delivery later, but many require you to order by the first week of December.
You don't want to take the chance of not getting your gift on time, and you don't want to have to pay extra shipping charges. Always check each item's website to see if the seller guarantees delivery and what date you need to order by.
4. Put Love into Each Gift.
If you stay organized and start the holiday shopping process well before your deadline, you'll have the luxury of being able to put love and thought into each gift you give. Too often, people scramble at the last minute to shop for the holidays — gifts they were planning to buy then go out of stock or won't be delivered on time, so they are left with having to try their luck at the local department store (and buying random gifts).
By staying organized, you have the ability to truly put a lot of thought into each gift so your loved ones know how much you care. You will have the time to get gifts monogrammed and more — it really does make a difference.
5. Wrap as You Shop.
If you leave all the gift wrapping for the night before your holiday gathering, you'll end up doing a stressful rush job. That said, wrap each gift as you buy it. By doing a little bit at a time, you will not be stressed toward the end of the month when you have a giant pile of presents to wrap.
As soon as you buy a gift, come home and set aside a couple of minutes to wrap it. If you love wrapping gifts (many people find this relaxing and joyful), pick a specific day in the calendar to sit down, listen to some holiday music and wrap away. By having a date in your planner, it takes away the stressfulness of days going by and having to wrap at the last minute.
Also, have fun with the wrapping. Put love and happiness into each gift and set the intention that the person receiving it will be filled with joy. You can make each gift extra special by writing a thoughtful card about your favorite memories with the recipient, adding a festive bow or taping a candy cane to the box. These small-but-impactful touches will really make your gift extra meaningful.
Enjoy the Season
The holiday shopping season can be a hectic time for many, but you can keep all stress and anxiety at bay by preparing now. Have an organized and stress-free shopping experience by writing out your list now, setting a strict budget and designating an online shopping deadline. Also, put extra love into each gift and make sure to wrap each present as you shop. Following these tips will help make this holiday shopping season the best yet.