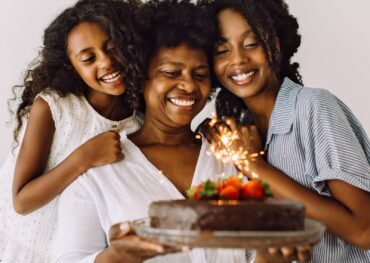 Health experts say that establishing and maintaining family traditions can boost overall wellbeing and vitality, especially as we age.
"As children become adults and move out of the house or away, the family traditions that bind us can sometimes get lost in the process," says Aparna Abburi, president of Medicare and CareAllies with Cigna, which provides insurance to hundreds of thousands of older adults through its Medicare plans. "Forming new traditions or reigniting old ones can keep us connected to loved ones, ultimately helping us feel more fulfilled, happier and healthier."
Here are some insights into the importance of traditions to wellbeing and vitality as we age, along with tips for keeping those connections going in your own circle of family and friends:
Traditions help combat loneliness.
According to a 2020 survey by Cigna, 61% of adults reported being lonely — a 7 percentage-point increase from 2018. That feeling was likely exacerbated by the pandemic that followed. Traditions can help to combat feelings of isolation. Consider setting up weekly video calls or trading letters and notes with relatives who live far away. Regular trips to a favorite destination, such as a lake or beach, or celebrating important holidays together every year, can provide meaningful time together.
Traditions pass on family values.
Having shared values can help us feel connected to one another. Telling stories from the past or practicing cultural, spiritual and religious traditions are great ways to pass these values down from one generation to the next.
Traditions can make us feel young again.
From cooking and gardening to sports and games, family traditions often evoke old memories and make us feel young again. Sensory memories can be particularly powerful. Whether it's a cookie bakeoff, ballpark peanuts and hot dogs, or a singalong around the piano, family rituals that include special sights, sounds and aromas are often the ones we think of most fondly.
Traditions strengthen communities.
Traditions are not just for families; they can also strengthen ties among friends and communities. Consider getting a group of neighbors together for morning walks or meeting friends for shopping excursions. Make visiting the farmers market, attending free concerts in the park, playing community center bingo and gathering for other recurring local events part of your routine.
As you embrace the rituals that matter most to you, remember that traditions don't need to be rigid or set in stone.
"Just as you might modify a family recipe to suit your dietary needs or switch from weekly phone calls to weekly video calls, don't be afraid to tweak and expand on older traditions so they're relevant and interesting today — and for years to come," Abburi says.
For more information about how to stay healthy while aging, visit www.cignamedicare.com.