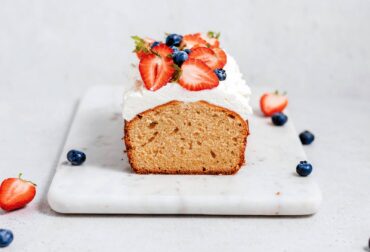 Whether your brunch feast consists of bacon and eggs, pancakes and waffles or a combination of favorites, you can cap it off with a sweet treat for the perfect ending. After all, no celebration is complete without dessert.
Once the table is cleared of the main courses, dish out decadent bites of this Brown Sugar Pound Cake baked with high-quality ingredients like C&H Sugars to end the meal on a sweet note. Top with whipped cream and your crowd's favorite fruits like strawberries and blueberries or serve the toppings separately for a customizable treat.
Visit chsugar.com for more brunch recipe ideas.
---
Brown Sugar Pound Cake
Prep time: 20 minutes
Cook time: 1 hour
Servings: 8
Ingredients:
1 3/4 cups all-purpose flour, plus additional for coating pan, divided
1 cup packed C&H Light Brown Sugar
1 cup (2 sticks) butter, softened
4 eggs
1 teaspoon vanilla extract
1/2 teaspoon baking powder
1/4 teaspoon salt
Sweetened whipped cream, for topping (optional)
Fresh fruit, such as strawberries and blueberries, for topping (optional)
Instructions:
Preheat oven to 350 F.
Grease and flour 9-by-5-by-3-inch loaf pan. In large bowl, beat sugar and butter until fluffy. Beat in eggs one at a time. Add vanilla. In separate bowl, combine 1 3/4 cups flour, baking powder and salt. Gradually add to sugar mixture. Pour batter into pan.
Bake 1 hour, or until toothpick inserted in center comes out clean. Remove from pan and turn out on rack to cool completely.
Top with sweetened whipped cream and fresh fruit, if desired.