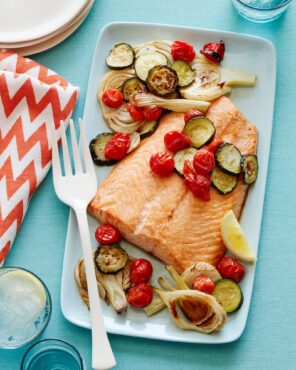 What's great about this recipe is the fact that everything cooks on one baking sheet so there's almost no clean up. I love to use fresh fennel, zucchini and cherry tomatoes, but you can use any vegetables you have on hand. All you need to do is toss everything with a touch of olive oil, a sprinkle of salt and pepper if you desire and pop it in the oven.
If you're like me, you want to turn the oven on as little as possible to keep your home cool, so using short cooking time and high heat is a win-win. The salmon becomes crispy and golden, with the vegetables just starting to caramelize in no time flat.
Not only is this salmon sheet pan dinner gorgeous to look at, it's even better to taste. Make it for a party or a night home with the family when you want to spend as much time out of the kitchen as possible so you can maximize relaxing and having fun.
---
Salmon Sheet Pan Dinner
Ingredients:
1 1/2 cups cherry tomatoes
1 large fennel bulb, sliced lengthwise into steaks
1 zucchini, cut into coins
Olive oil
2 lemons, halved
1 1/2 pounds salmon filet, whole or cut into filets
Kosher salt, to taste
Directions:
Preheat oven to 450 degrees F.
Place the first 5 ingredients on a sheet pan and toss with olive oil to coat and salt to taste. Distribute the vegetables around the pan in a single layer and bake for 10 minutes.
Remove the sheet pan from the oven and push some of the vegetables to the side to make space for the salmon fillets. Season the salmon with salt and bake for 12-15 additional minutes (depending on the thickness of your salmon fillets). Turn the broiler on for 2 minutes or until the vegetables are golden.
Place salmon and vegetables on a plate and offer a lemon half for squeezing over fish and vegetables.