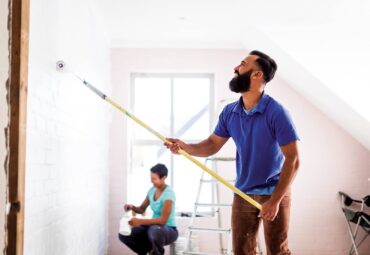 If you've recently closed on your first house, congratulations on becoming a homeowner. Before you can get comfy in your new place, you need to actually move in. If you've never moved into a new house, there are a few things you may not be aware of.
As you make plans to move into a house for the first time, consider these tips as you begin to get settled.
Have the House Cleaned
You have two options: Either roll up your sleeves and do a complete top-to-bottom cleaning before moving in or hire a cleaning service. While both options work, one will save you money and the other will save you time.
Tackle Any Small Projects
If you already know you want to make some changes, it's best to do that before you move your things in. Your home inspector can go over your entire house and suggest possible renovations and improvement projects.
Meet Your Neighbors
Even if you've never taken the time to introduce yourself to your neighbors before, you'll likely want to get to know the folks who live next to or near your new home. Consider stopping by with a simple gift like cookies to break the ice, say hi and get things started on the right foot.
Check Out Community Activities
Every community has its own personality. That includes the local hotspots, activities, seasonal celebrations and recreational options. You may have looked into some of this while you were shopping for your new home, but now that you know where you'll be living, this is a perfect opportunity to sign up for a recreational sports team or put the annual festival on your calendar.
Make Sure You Have Power
When you move into a new home, it's up to you to contact the electric provider for the area to set up an account and ensure the power is on. Do not count on the former owner to leave the power on for you.
Replace the Locks
Rather than assuming you have complete control over who can get in your home, it's best to go ahead and change all the locks. This simple step isn't overly expensive and can give you peace of mind.
Consider Eco-friendly Appliances
Going green can reduce your energy costs as well as your carbon footprint. It doesn't have to cost a fortune to make your house eco-friendly. There are energy-efficient appliances to suit every price range. Plus, simple changes, like LED bulbs and a smart thermostat, can further reduce your energy bill.
Make Your New Home Safe
At a minimum, you should check every smoke and carbon monoxide alarm to ensure they work. If not, replace them and purchase a fire extinguisher or two for added protection.
Account for Outdoor Essentials
You'll want to arrange for a lawn care provider if you don't plan on doing it yourself and give some thought to any needed landscaping, which makes outdoor maintenance one less thing to worry about as you settle in.
Moving in to your first home is a significant milestone. Make the experience of moving in memorable, efficient and as stress-free as possible by working through this checklist ahead of time.
If you're planning to hire someone to help complete any of these tasks, finding the right professional can be tricky, but there's a simple solution. An online directory like the Best Pick Reports provides homeowners with recommended pros that have been thoroughly, independently reviewed. Plus, if you're not satisfied with a guaranteed service provider, you'll be reimbursed.
Visit bestpickreports.com to find home services professionals to help you tackle all your home improvement projects, including moving in.