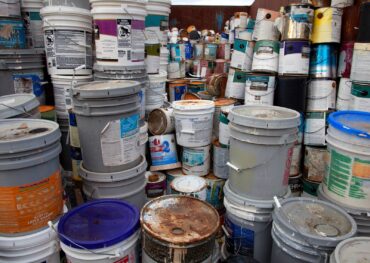 Before you dispose of your household hazardous waste, check your product labels. If a container has the words caution, warning, flammable, combustible, danger, toxic or poison and still has product inside, it doesn't belong in the garbage, recycling or down a drain.
But that doesn't mean you need to keep it forever. Removing unwanted chemicals improves the safety of your home. In earthquake country, it's particularly important to remove chemicals that could tip over and mix during a quake. Store your chemicals at ground level to keep them from falling and breaking open.
If your unwanted products are still good, check with a neighbor or ask online to see if anyone could use them. No takers? Find a convenient drop-off recycling or disposal site.
Here are sites for some common household hazards:
Paint: The new, statewide PaintCare program makes it easy to recycle leftover paint, primers, stains, sealers, shellac and varnish at convenient drop-off sites.
Motor oil: Call your nearest auto shop to ask about dropping off used motor oil, or bring it to a county waste facility. Limit to 5 gallons per day.
Antifreeze: Call your nearest auto shop to ask about dropping off used antifreeze, or bring it to a county waste facility. Limit to 5 gallons per day.
Batteries: Put loose, rechargeable and single-use batteries into the battery buckets at county waste facilities. Lowe's and Home Depot stores also take rechargeable batteries from tools. Note: Single-use alkaline batteries are also safe for the trash.
Vehicle batteries: There are many places to take lead acid batteries, including auto part shops, scrap metal recycling businesses and some gas stations and county waste facilities.
CFL bulbs or fluorescent tubes: The statewide LightRecycle WA program makes it easy to recycle unwanted fluorescent bulbs and tubes at convenient drop-off sites. Limit to 10 bulbs and tubes per day.
Needles and sharps: Once needles are safely sealed in an approved container, take them to a county waste facility and notify the staff that you have sharps to drop off. Limit to three approved containers per day.
Medications: The statewide MED-Project program makes it easy to dispose of unwanted or expired medications at community kiosk drop-off sites or through mail-back services.
Bring Hazardous Chemicals to the Collection Facility
The Household Hazardous Waste Collection Facility in Bremerton accepts the hazardous items listed above (excluding medications) and more. This year-round facility is open to Kitsap and Mason residents on Thursday, Friday and Saturday from 10 a.m. to 4 p.m. (closed noon to 12:30 p.m. for lunch break).
If you have large amounts of household hazardous waste (more than 50 containers, loads over 50 gallons total or containers larger than 5 gallons), make a disposal appointment so staff can give you their focused attention.
Put empty containers in the trash. Containers that once held hazardous products can't be recycled. Once empty, remove the lids and put them in your garbage.
Got other unwanted household items? Go to Recycle.KitsapGov.com to find out what to do with them. Type the name of your item into the search bar and we'll tell you how to recycle, compost or safely dispose of it.