During the time in COVID isolation over the past year, bread baking has been a constant. But with all the types of bread being baked, there is also a need to find new uses for it. One day, I ran out of croutons to use in a salad, driving a need to make use of the heels or odd-cut pieces that I'd been tossing into the freezer.
To make homemade croutons, preheat your oven to 400 degrees while you cube the bread into bite size pieces. I don't like them to be any larger than half inch, but you can make them larger or smaller based on your preference.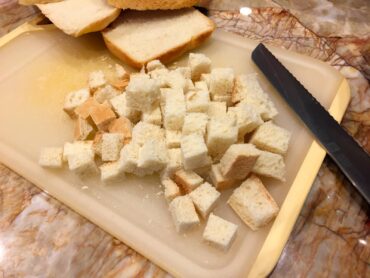 For each 8 ounces of cubed bread, melt 2 tablespoons of butter and combine it with 2 tablespoons of olive oil. Place the cubed bread in a large bowl, add about half of the melted butter and olive oil mixture to the bread cubes and mix well. Add the remainder and mix once more.
Now to add the flavoring, if any, that you like. For me, Johnny's Garlic Spread (you can find it at Costco and grocery stores) adds each of the elements that I want: garlic, parmesan cheese and salt. For every 8 ounces of cubed bread, I use 1 teaspoon of the seasoning.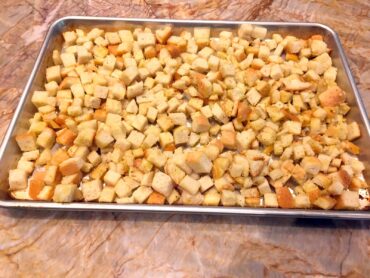 You could also use onion powder and grated Romano (about half teaspoon each for every 8 ounces or cubed bread). There are also no-salt spice blends that could add the flavoring you like without any added sodium.
Place the seasoned, cubed bread on a cookie sheet and put it in the oven for 18-20 minutes. Check the bread at least twice, stirring the cubes to let them absorb the seasoning.
When they are a light golden brown, remove from the oven and allow to cool. Store the croutons in an airtight container. I store mine in the refrigerator where they last up to three weeks. They are a great addition to any salad.
---
Homemade Croutons
Ingredients:
8 ounces of cubed bread (leftovers and heels are terrific)
2 tablespoons melted butter
2 tablespoons olive oil
1 teaspoon Johnny's Garlic Spread (my choice — but you can substitute with other mixes)
Directions:
Preheat over to 400 degrees.
Cut bread into cubes no larger than 1/2 inch.
Add half butter or oil mixture and stir. Add remaining butter/oil mixture. Add seasoning and toss.
Spread on an ungreased baking sheet and place in the preheated oven. Bake for 18-20 minutes, stirring or turning twice.
When golden brown, remove from oven and cool.
Place in airtight containers.